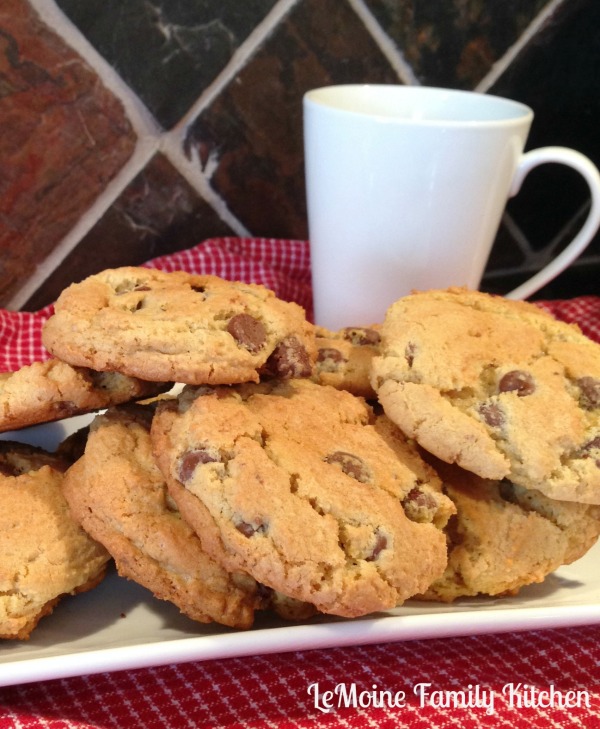 Chewy Chocolate Chip Cookies
Ingredients
6 ounces unsalted butter, softened, but not melted
1 cup brown sugar
1/4 cup caster sugar
1 egg
2 teaspoons vanilla extract/ 1 tsp vanilla essence
2 cups plain flour
2 teaspoons cornstarch
1 teaspoon baking soda
1/2 teaspoon salt
1 1/2 teaspoons instant coffee granules
6 ounces dark chocolate, cut into small chunks/ dark chocolate chips
Instructions
Preheat oven to 350?F.
Cream together butter and both sugars until smooth and creamy.
Add egg and vanilla and blend in.
Stir in flour, cornstarch, baking soda, coffee and salt.
Fold in chocolate chips.
Drop by 1 tbs of dough onto a lined or greased baking sheet, leaving space in between for cookies to spread.
Bake about 8 mins or until golden and lightly browned around the edges.
Let cool slightly on sheets before transferring to a rack.
Cool completely before storing in an airtight container.
https://stlcooks.com/chewy-chocolate-chip-cookies/
Recipe and Photo: Foodista / CC BY