Jump to recipe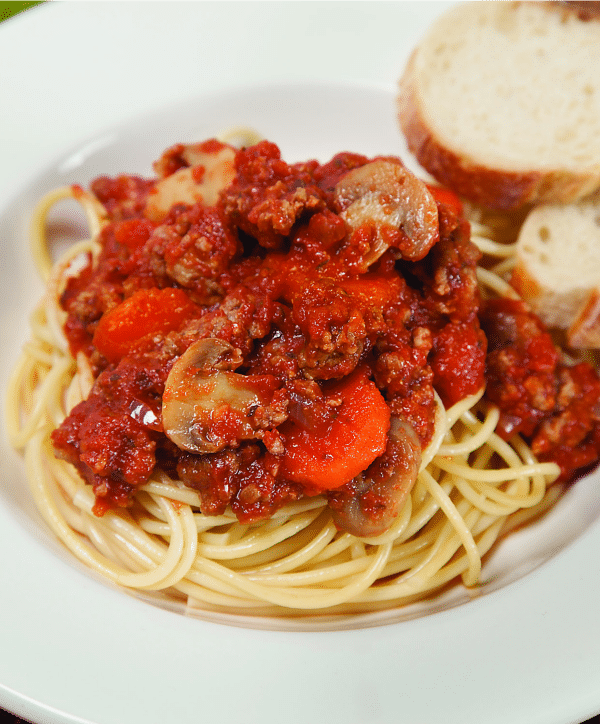 Slow Cooker Ragu

Ingredients
2 tablespoons olive oil
1 yellow onion, finely chopped
1 celery stalk, finely chopped
3 cloves garlic, minced
Kosher salt and cracked black pepper
1/4 cup canned tomato paste
1/2 teaspoon dried thyme
1/2 cup low-sodium beef broth (canned)
2 cans (28 ounces each) crushed tomatoes
1 pound ground pork
1 pound ground beef sirloin
1 can (14.5 ounces) sliced carrots, drained
1 can (4 ounces) sliced mushrooms, drained
Cooked pasta, such as spaghetti, for serving
Instructions
Heat oil in large saute pan over medium-high heat. Add onion and celery and saute for 1 minute just to soften. Add garlic and season with salt and pepper, cooking for about 3 minutes.
Add tomato paste and thyme and continue cooking for another 2 minutes. Slowly add beef broth to deglaze bottom of pan, stirring with wooden spoon.
Season with salt and pepper. Carefully transfer mixture to slow cooker. Stir in canned tomatoes. Mix pork and sirloin together in separate bowl, using your hands, until combined.
Stir meat into slow cooker, spreading out evenly and avoiding any large clumps. Cover and cook on high for 4 to 6 hours or on low 8 to 10 hours.
During last two hours of cooking, add canned carrots and mushrooms to ragu. Skim accumulated grease from top before serving. Serve over pasta with crusty bread for soaking up sauce.
Source: CMI