Jump to recipe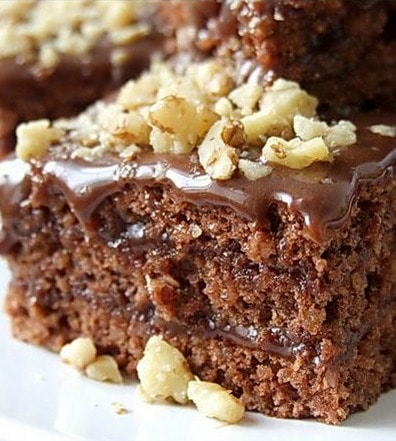 Snickers Cake

Ingredients
1 box Betty Crocker German chocolate cake mix.
1 package caramel candies
1/4 lb. butter or margarine
1/2 cup milk
1 cup chocolate chips
1-1/2 cup chopped peanuts
Instructions
Prepare cake mix as directed; scale out 1/2 of the cake mixture into a 13 x 9 x 2 pan. (Pan must be liberally greased)
Bake approximately 25 minutes at 350 degrees or until cake springs back when touched. Remove cake and reset oven to 250 degrees.
Melt caramels in saucepan with margarine and milk until caramels are just melted. BE CAREFUL NOT TO BURN. Stir well and pour this mixture over baked portion of cake.
Cover cake mixture with chopped nuts and chocolate chips, then pour remaining cake mixture over top and shake down gently..
Bake 20 minutes at 250 degrees, then increase heat to 350 degrees and bake another 10 minutes until cake is done. Let cool completely. Serve from pan.
Recipe and Photo: Cooking Melody / CC BY