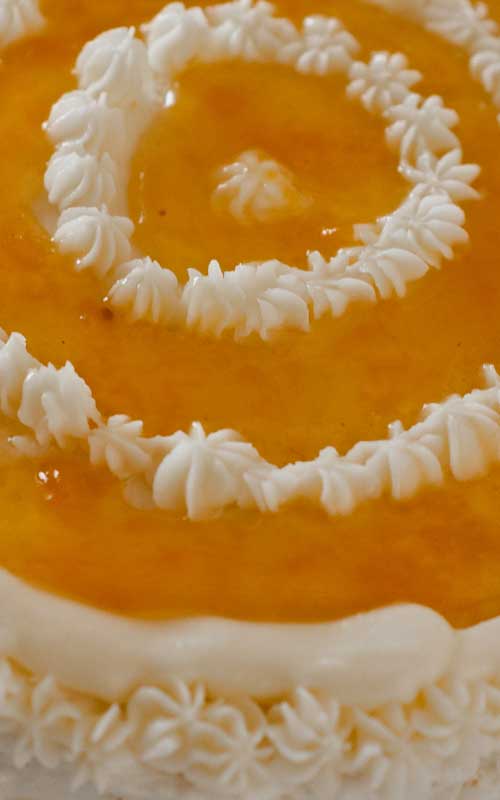 This Peach Schnapps Layer Cake is soooo good! I made it many years ago, and have just found the recipe again.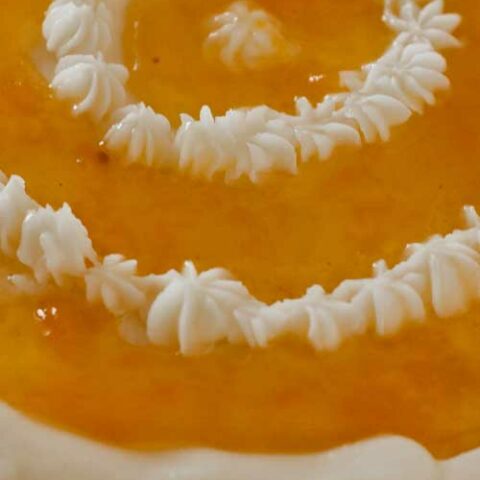 Peach Schnapps Layer Cake
Yield: About 12 slices

Prep Time: 30 minutes

Cook Time: 45 minutes

Additional Time: 20 minutes

Total Time: 1 hour 35 minutes

This Peach Schnapps Layer Cake is soooo good! I made it many years ago, and have just found the recipe again.
Ingredients
For cake layers:
1 cups (200 g) granulated sugar
2 large eggs
1 1/4 cups gluten-free rice flour all-purpose mix (I used 200 grams of Gluten Free Pantry All Purpose Flour)
1/4 teaspoon salt
1 1/2 teaspoons baking powder
1/2 teaspoon xanthan gum
1/2 cup canola oil
1/2 cup milk
*add a teaspoon of vanilla extract, especially if you want to skip out on the schnapps
2/3 cup peach preserves
For peach schnapps syrup:
1/4 cup (50 g) sugar
1/2 cup water
2 Tablespoons peach schnapps
For peachy buttercream:
1 cup/2 sticks unsalted butter, softened
2 1/2 cups powdered sugar
pinch salt
1/4 cup peach preserves
---
---
Instructions
To prepare cake layers:
Preheat oven to 350ºF. Grease a 6" round cake pan (mine's 3" deep).
Beat sugar and eggs in large bowl of electric mixer at medium speed for one minute. Add flour, salt, baking powder, xanthan gum, oil, milk, and vanilla and beat at medium speed for about a minute, or until batter is smooth.
Scoop batter in prepared cake pan. Place pan in center of oven and bake for about 45 minutes or until top springs back when lightly touched or a toothpick in the center comes out with only a crumb or two. Remove from oven and cool on a wire rack for a few minutes, remove from pan and cool completely.
To prepare sugar syrup:
Heat water and sugar in a small saucepan, stirring, until sugar is completely dissolved. Remove from heat and let cool. Stir in schnapps.
To prepare frosting:
Place butter in a medium bowl and beat until fluffy. Add powdered sugar and salt and beat until smooth. Beat in peach jam. (If planning on piping frosting, you may want to set aside some frosting before adding jam to prevent getting clumps stuck in your bag.)
To assemble cake:
Level the top of the cake. Slice cake into three layers. Place the base of the cake on a cake plate or large plate, sliced side up. Brush with syrup. Spread 1/3 cup peach preserves over cake layer, and top with another layer of cake. Brush with syrup and spread remaining 1/3 cup preach preserves over the layer. Top with the remaining layer of cake and brush entire cake with remaining syrup.
Scoop about 1 cup of frosting on the top of the cake and spread over the top and sides of cake, adding more frosting as necessary. Smooth sides and top, and, if desired, pipe designs with remaining buttercream.
Store in refrigerator for up to 2 or 3 days. Take out about 20 minutes before eating or it'll be too cold and not taste as awesome.
Nutrition Information
Yield 12 Serving Size 1 slice
Amount Per Serving Calories 462Total Fat 26gSaturated Fat 11gTrans Fat 0gUnsaturated Fat 14gCholesterol 72mgSodium 144mgCarbohydrates 55gFiber 1gSugar 36gProtein 3g

Nutrition data was provided and calculated by Nutritionix, and should only be used as a general guideline. This information is provided as a courtesy and there is no guarantee that the information will be completely accurate.

Recipe and Photo: Mariam