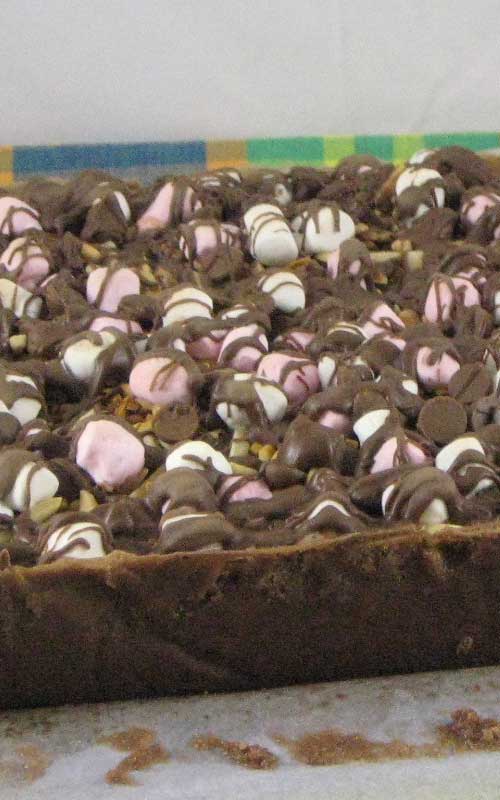 Recipe for Rocky Road Brownies – These brownies are amazing, with their deep chocolate flavor topped with soft and gooey marshmallows all jumbled together with chocolate chips and nuts.
Ingredients
Nonstick cooking spray
1 stick (1/2 cup) unsalted butter
4 ounces semisweet chocolate, chopped
1 cup packed light brown sugar
1 teaspoon pure vanilla extract
2 large eggs
3/4 cup all-purpose flour
2 tablespoons Dutch process cocoa
1/2 teaspoon salt
1/4 teaspoon baking powder
3/4 cup chopped salted almonds
3/4 cup chocolate chips
1 cup mini marshmallows
Instructions
Preheat the oven to 350 degrees F. Fit a sheet of foil over a 9 by 9-inch baking pan and leave a 2-inch overhang for the handles. Spray with nonstick spray.
Add the butter and chocolate to a medium saucepan over low heat. Stir until melted and smooth, then remove from the heat. Stir in the brown sugar, and vanilla. Add the eggs, 1 at a time, and stir until well combined.
In a separate bowl, whisk together the flour, cocoa powder, salt, and baking powder. Add this dry mixture, in increments, to the chocolate mixture, and mix well until smooth. Stir in the almonds.
Pour the batter into the prepared pan, smooth the top, and bake for 30 minutes.
Remove the brownies from the oven, and sprinkle with the chocolate chips and marshmallows. Put the pan back in the oven and bake until the marshmallows are puffy and melted, about 5 more minutes. Let the brownies cool in the pan before removing and slicing.
https://stlcooks.com/rocky-road-brownies/
Recipe and Photo: chocolate-dessert-recipes.com / CC BY