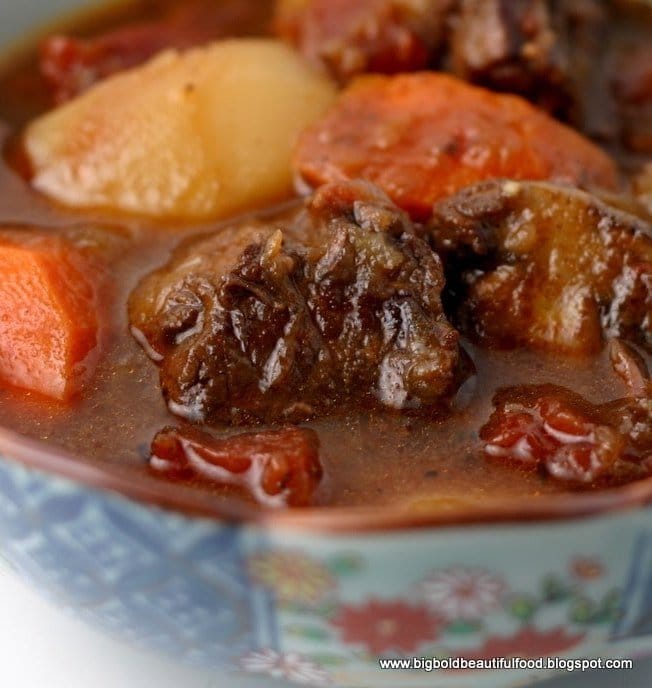 Ingredients
1 1/2 lb. beef stew meat, dried and salted and peppered
Oil
1 medium onion, chopped
2 cloves garlic, minced
2 cups beef broth
3/4 cup cabernet sauvignon
1/2 a large can of whole plum tomatoes (5 of the tomatoes chopped, and 2/3 cup of the tomato juice in the can) or you can use 1 small can of chopped tomatoes.
2 medium-sized carrots, peeled and cut in medium-sized pieces
2 medium-sized potatoes, peeled and cut in medium-sized pieces
1 pack of mushrooms, cleaned and cut in halves or thirds
A few dried mushrooms, soaked in a little hot water
1/2 tsp. Italian seasoning
1 bay leaf
Instructions
Heat a dutch oven over medium-high heat. Add a little oil and brown meat on all sides, making sure that there is air space all around the meat and the pan is not crowded. Cook meat in batches if necessary and set aside.
Turn down heat to medium, add a little more oil, and brown onions until translucent, about 5 minutes. Add garlic at the last minute of cooking.
Add back meat to the pot and add beef broth, wine and tomatoes. Keep the skillet you used to brown the meat and onions to use for the mushrooms. Bring to a simmer and cook until beef is tender, about 1 1/2 hours. (You can also do this in pressure cooker and cook the beef for 35 minutes or cook it in the oven at 350 for 1 1/2 hours).
While the beef is cooking, heat up the skillet over medium-high heat and add a little oil. Cook the mushrooms until they're browned. Salt and pepper and set aside.
When the dried mushrooms that you have been soaking in hot water have softened, cut them in small pieces. With a fine strainer, strain the mushroom water to remove any dirt and then add the chopped mushrooms back. Set aside.
When the beef is tender, add the potatoes, carrots, mushrooms and mushroom juice, and cook at a simmer until the potatoes and carrots are tender.
Adjust seasonings and serve with noodles or rice.
https://stlcooks.com/italian-style-beef-stew/
Recipe and Photo: Big, Bold, Beautiful Food / CC BY