Jump to recipe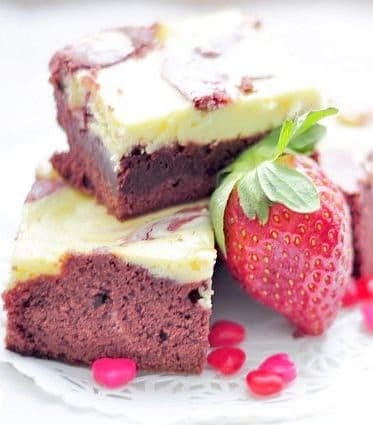 Red Velvet Brownies

Ingredients
1 cup unsalted butter
4 oz dark chocolate, coarsely chopped
2 cups sugar
4 large eggs
2 teaspoons vanilla extract
1 tablespoon red food coloring
1 1/3 cups all purpose flour
1/2 tsp salt
2 – 8oz blocks cream cheese, room temperature
2/3 cup sugar
2 large eggs
1 teaspoon vanilla extract
Instructions
Preheat oven to 350F.
Line a 9 by 13 inch baking pan with aluminum foil and lightly grease.
Melt butter and chocolate together. Stir until combined and very smooth.
Set aside to cool for a few minutes.
In a large bowl, whisk together sugar, eggs, vanilla extract and food coloring.
Add chocolate mixture and stir until smooth.
Add flour and salt and stir until just combined and no streaks of dry ingredients remain.
Pour into prepared pan and spread into an even layer.
To prepare cheesecake mixture, beat cream cheese, sugar, egg and vanilla extract until smooth.
Drop in dollops onto prepared brownie batter.
Gently swirl two batters with a butter knife.
Bake for 35-40 minutes, until brownies and cheesecake are set.
A knife inserted into the cheesecake mixture should come out clean and the edges will be lightly browned.
Cool in the pan completely before slicing and serving, either at room temperature or chilled.
Recipe and Photo: Foodista / CC BY