Jump to recipe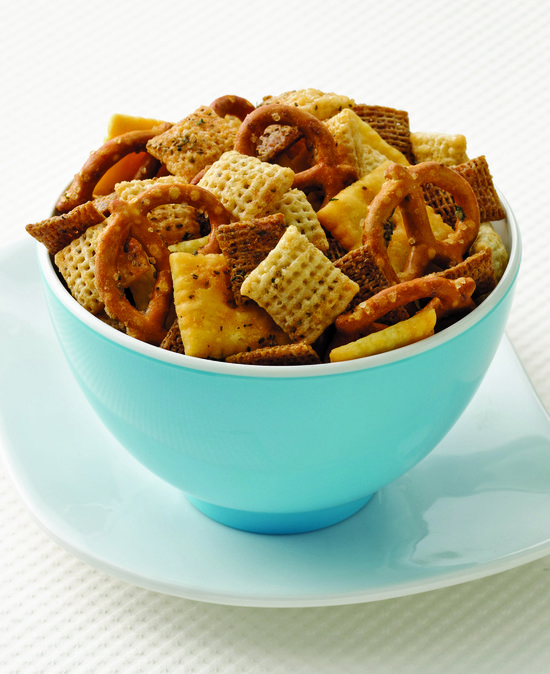 The recipe for a successful sports party calls for three main ingredients – cheering friends, delicious snacks and fun activities for all.
When the weekend rolls around, who doesn't love an excuse to round up friends and family to watch a major sporting event? This season, have the party at your place and score big points with your friends and family:
* Fast Finger Foods
When the game is on, guests don't want to sit at a table – people tend to watch standing up so they can cheer at exciting moments, or mingle if they're not that into it.  That's why finger foods and appetizers are must-have menu items at game day parties, allowing guests to grab a quick handful without ever missing a play.
* Spice it Up
Kick up your party a notch and make sure your snacking spread boasts a variety of different flavor profiles. Hungry fans will be sure to grab extra handfuls of Buffalo Chex(r) Mix, a spicy assortment of cereal, Parmesan crackers, pretzels and the sizzling touch of Frank's(r) RedHot(r) Buffalo Wings Sauce.
* Share The Spread
Don't be shy about asking friends to bring something to the party. People like to help the host by bringing a drink or an appetizer. As the host, make sure there is a good assortment of options, so that no one ends up bringing the same dish. As a rule of thumb, offer fruits and veggies, a meat or veggie dish and a dessert. When friends ask what they can bring, feel free to tell them.
* Kids Corner
While the adults are munching on snacks and watching the commercials, kids can get a little bored. Be sure to have kid friendly games, snacks and beverages to ensure they are as excited as the winning team. Try making a bean bag toss in your basement or backyard, or set up a simple obstacle course for guests of all ages to try.
* Satisfy Every Taste Bud
Many people are dealing with dietary restrictions, so it's important to prepare something for everyone.  Provide a gluten free snack option and at least one vegetarian option for your guests. For example, Chex(r) Party Mix offers a variety of gluten free snacks – sweet and salty – to make everyone happy.
With a little bit of preparation and some team spirit, your party will be a real winner. For additional recipe ideas for your game day bash, visit www.chexpartymix.com.
Buffalo Chex Mix

Ingredients
4 cups Rice Chex cereal
4 cups Wheat Chex cereal
2 cups Parmesan-flavored crackers
2 cups pretzel twists
6 tablespoons butter
2 1/2 tablespoons Frank's RedHot Buffalo Wings Sauce
1 packet ranch dressing mix
2 teaspoons celery seed
Instructions
In large microwavable bowl, mix cereals, crackers and pretzels; set aside. In small microwavable bowl, microwave butter uncovered on High about 40 seconds or until melted. Stir in hot sauce and seasonings. Pour over cereal mixture; stir until evenly coated.
Microwave uncovered on High 4 to 5 minutes, thoroughly stirring every 2 minutes. Spread on paper towels to cool. Store in airtight container.
Source: Chex