Jump to recipe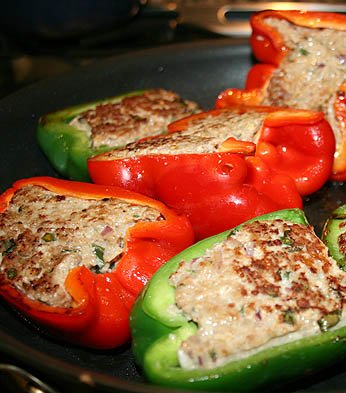 Red and Green Stuffed Bell Peppers

Ingredients
1.25 lbs ground turkey
2 red bell peppers
2 green bell peppers
1 small red onion, diced
1/2 cup chopped basil
3 garlic cloves, minced
1 tbsp sage, chopped
1/2 tbsp garlic powder
1/2 tsp salt
1 egg
1/4 cup Italian breadcrumbs
2 tbsp Asiago or parmesan cheese
Instructions
Pre-heat oven to 350 degrees.
In a large bowl, combine ground turkey, red onion, basil, garlic, sage, garlic powder, salt, egg, and Italian breadcrumbs. Mix together.
Cut each bell pepper in half and stuff with the ground turkey mixture.
Sear each side of the bell pepper in a hot pan to brown, about 2-3 minutes each side.
Transfer to baking sheet and sprinkle each stuffed pepper with cheese.
Place in oven for 15-20 minutes to cook completely through.
Recipe and Photo Courtesy of The Food Addicts / CC BY-NC-SA