Jump to recipe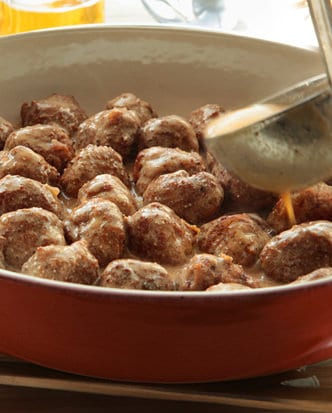 Swedish Meatballs

Ingredients
3 tablespoons unsalted butter
1/2 cup finely chopped yellow onion
1 slice white bread, torn into 4 pieces
1/2 cup whole milk
1/2 pound ground chuck (15 percent fat content)
1/2 pound ground veal
1 large egg
1 1/2 teaspoons kosher salt
3/4 teaspoon freshly ground black pepper
1/2 teaspoon freshly ground nutmeg
2 tablespoons all-purpose flour
2 cups beef broth
1/2 cup sour cream
3 tablespoons finely chopped fresh Italian parsley
Instructions
Melt 1 tablespoon of the butter in a large frying pan over medium heat. When the foaming subsides, add onion and cook, stirring occasionally, until softened, about 4 minutes. Remove from heat and let cool slightly.
Meanwhile, place bread in the bowl of a stand mixer fitted with a paddle attachment and add milk. Let sit until the bread has absorbed the milk, about 5 minutes. Add the cooled onion, ground beef and veal, egg, salt, pepper, and nutmeg and beat on medium speed until the mixture is light in color and appears sticky, about 5 minutes.
Fill a medium bowl with water. Form the meat mixture into 1-inch balls, wetting your hands in the bowl of water as necessary to keep the mixture from sticking, and place meatballs on a baking sheet.
Wipe the frying pan clean with a paper towel. Melt the remaining 2 tablespoons butter in the pan over medium heat. When the foaming subsides, add half of the meatballs and fry, turning occasionally, until browned on all sides and cooked through, about 8 to 10 minutes. Transfer to a clean serving dish; set aside. Repeat with remaining meatballs.
Sprinkle flour over the drippings in the pan and whisk, scraping up any browned bits, until the flour's no longer raw tasting, about 1 minute. Slowly pour in broth, whisking as you do to smooth out any lumps. Cook until the mixture starts to boil and thicken, about 3 minutes. Strain through a fine-mesh strainer into a medium heatproof bowl and discard the solids. Transfer the strained sauce back to the pan.
Reduce heat to low and whisk in sour cream. Season with salt and pepper as needed. Return meatballs to the pan until heated through, about 5 minutes. Transfer meatballs and sauce to the serving dish and sprinkle with parsley.
Recipe and Photo: recipes.wikia.com / CC BY-SA