Jump to recipe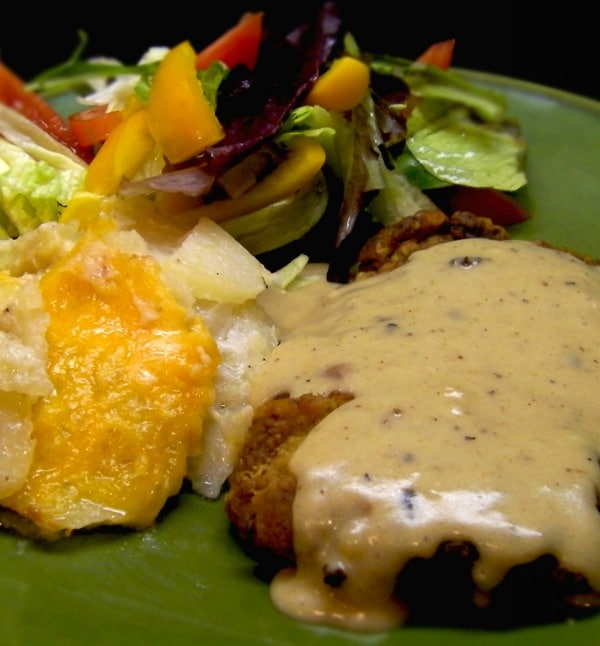 Chicken Fried Steak with Cheddar Scalloped Potatoes

Ingredients
Scalloped Potatoes:
6 to 8 medium potatoes, peeled, thinly sliced & rinsed
4 tablespoons butter
2 cups scalded milk
1/2 cup shredded Cheddar cheese
2 tablespoons flour
1 teaspoon salt
1/8 teaspoon pepper
Chicken Fried Steak:
4 tenderized beef cutlets or cube steak
1 egg
1 cup milk
1 cup flour
2 Tbsp Lard or cooking oil
1 Tbsp Soul Seasoning (or substitute – 1 tsp salt & 1/2 tsp pepper, garlic powder & paprika)
Instructions
Scalloped Potatoes:
Preheat oven to 375° and put 2 cups milk on medium low to warm. Watch milk careful to not boil over.
Spray 2-quart baking dish with Canola Oil. Place a layer of the sliced potatoes in the dish, about 1/3 of your prepared amount.
In a cup or small bowl, combine flour with salt and pepper and stir. Sprinkle about half of the flour mixture over the potatoes. Add another layer of potatoes and sprinkle the remaining flour mixture. Top with the last of your potato slices and dot with butter. Carefully, pour hot milk over potatoes.
Cover and bake for 45 minutes. You might want a cookie sheet under to catch any spills. After 45 mins, uncover; sprinkle cheddar cheese over the top. Return to oven & bake, uncovered, for an additional 15 mins. Let set for 5 minutes before serving.
Chicken Fried Steak:
Beat egg and milk and set aside. Mix the flour and soul seasoning (or the salt, black pepper and paprika) in shallow dish and set aside. Lightly sprinkle both sides of cube steak with Soul Seasoning. Set aside and prepare your frying pan.
Heat lard or oil in a large cast-iron or heavy skillet. Temp should be medium to medium-high heat for at least a few minutes. You can check the temp of the pan with a drop of water. If it pops and spits back at you, it's ready.
Dredge the steaks in the flour mixture. Shake off the excess and then dip in the egg/milk mix and right back in the seasoned flour for a second dredge. Immediately place steaks in pan. Careful with the hot oil. You may want to use metal tongs or a long fork.
Fry cutlets on both sides, turning once, until golden brown. On the second turn, reduce heat to medium (maybe even med-low) and cook 4 or 5 minutes until cutlets are done through. Drain cutlets on paper towels and serve with gravy. What do you mean, you don't know how to make gravy? Well, here's the secret recipe. Shhhh! We don't want everyone to know how easy it is!
Recipe and Photo: $10 buck dinners! / CC BY-SA