Jump to recipe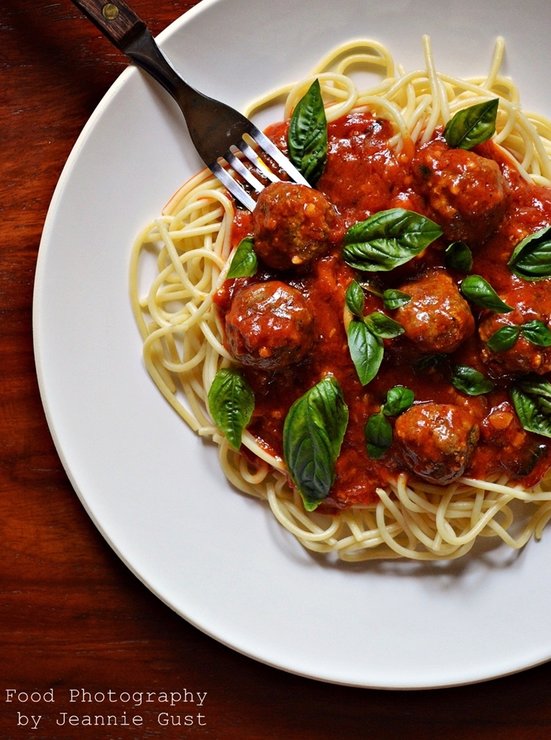 Spaghetti and Spicy Meatballs

Ingredients
For the Spicy Meatballs
1 pound lean ground beef
6 uncooked slices of bacon or pancetta, blitzed in a food processor or very finely chopped
1 medium size yellow onion, chopped fine
2 cloves garlic, crushed
1 Tablespoon butter
1 slice of white bread, sliced into cubes
1/4 cup milk
1 whole egg
1-2 teaspoons Tabasco Chipotle Pepper Sauce (optional)
1 Tablespoon chopped chives
1 Tablespoon chopped Italian parsley
1 teaspoon chopped fresh thyme
1/2 teaspoon Italian Seasoning (dried mixture of marjoram, thyme, rosemary, savory and sage)
1/4 cup dry breadcrumbs (Seasoned Italian or Plain)
1/4 cup grated Parmigiano-Reggiano cheese (or any store-bought parmesan cheese)
1 teaspoon sea salt (if you prefer to use table salt, use 1/2 teaspoon or you can totally omit the salt since bacon and parmesan cheese are quite salty)
1/2 teaspoon black pepper
1/4 teaspoon chilli flakes (optional)
1/2 cup canola oil (for pan-frying the meatballs)
For the Sauce
1/4 cup extra virgin olive oil
2 Tablespoons unsalted butter (why? it mellows the acidity of the tomatoes and makes the sauce rounded and more tasty)
1 whole head of large garlic, finely minced
2 Tablespoons tomato paste
1/4 cup dry white wine
2 (14 oz) cans of diced/chopped stewed tomatoes (preferably Italian brand)
1 cup chicken stock
2 teaspoons Italian Seasoning (dried mixture of marjoram, thyme, rosemary, savory and sage)
salt and pepper to taste
2 teaspoons to 1 Tablespoon sugar – according to taste (to cut the acidity of the tomatoes)
2 Tablespoons fresh basil, chopped
Whole or chopped Basil leaves for garnish
Extra grated Parmesan Cheese (on the side)
1 Lb. Spaghetti pasta, cooked al dente.
Instructions
For Meatballs
Put ground beef and blitzed or finely chopped uncooked bacon/pancetta into a bowl.
In a skillet, saute onion and garlic in butter until soft, set aside.
Soak cubed white bread in milk until bread is mushy, set aside.
In a small bowl, mix herbs and spices (fresh and dried) and salt and pepper.
Into the bowl of ground beef and bacon, add milk-soaked white bread, dry breadcrumbs,sauteed garlic and onion, egg,Tabasco Chipotle Pepper Sauce,
grated parmesan cheese and mixture of herbs and spices.
Mix all ingredients by hand, but don't squish and overwork the meat mixture.
Measure a teaspoon of meatball mixture and form into balls.
Fry meatballs by batches so they brown evenly. Set cooked meatballs aside.
For the Sauce
In a Dutch oven or large braiser pan over medium heat, put extra virgin olive oil, butter and minced garlic.
Slowly and gently saute the garlic until fragrant. Add tomato paste and cook for a minute.
Deglaze the pan with white wine and let it bubble for 10 seconds,
then add the chicken stock, stir and simmer for a minute.
Add the 2 cans of chopped/diced stewed tomatoes.
Let the sauce simmer for 15 mins. then add the Italian Seasoning
(dried herbs). Season with salt, pepper and sugar.
Simmer sauce for 20 mins until sauce reduces into 2/3. Check for seasoning adjustments.
And finally add the fresh chopped basil.
Place cooked spicy meatballs in the sauce and gently stir.
Serve meatballs sauce over cooked spaghetti pasta.
Recipe and Photo: Goddess of Scrumptiousness / CC BY-ND