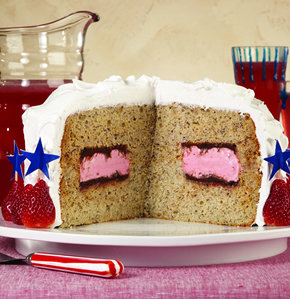 Recipe: Banana Split Surprise Cake
Ingredients
2-3/4 cups all-purpose flour
1 teaspoon baking soda
1 teaspoon baking powder
1/2 teaspoon salt
1 cup (2 sticks) butter, softened
1-3/4 cups granulated sugar
4 eggs
2 teaspoons vanilla extract
3 ripe bananas, mashed (about 1-1/4 cups)
1 cup sour cream
1 cup (about 8 ounces) hot fudge sauce
1 pint (about 2 cups) strawberry ice cream, softened
1 box (10 ounces) Vanilla Whipped Icing Mix
Fresh strawberries, halved Star Pics
Instructions
Preheat oven 350°F. Spray Fancy Fill pans from set with vegetable cooking spray.
In medium bowl, combine flour, baking soda, baking powder and salt; set aside. In large bowl, beat butter and sugar with electric mixer until light and fluffy. Add eggs, vanilla and mashed banana; mix well. Add flour mixture alternately with sour cream; blend thoroughly but do not overmix. Pour into prepared pans.
Bake 33 to 38 minutes or until toothpick inserted in center of cake comes out clean. Cool 10 minutes in pan on rack; remove from pan and cool completely.
Divide fudge sauce and spread evenly into cavities of cake; freeze 10 minutes. At same time, remove strawberry ice cream to soften. Fill cake cavities with ice cream. Assemble cake by inverting top layer onto bottom layer.
Prepare icing mix according to package directions. Ice top and sides of cake; freeze at least 2 hours or until ready to serve. Garnish with strawberries and star pics.