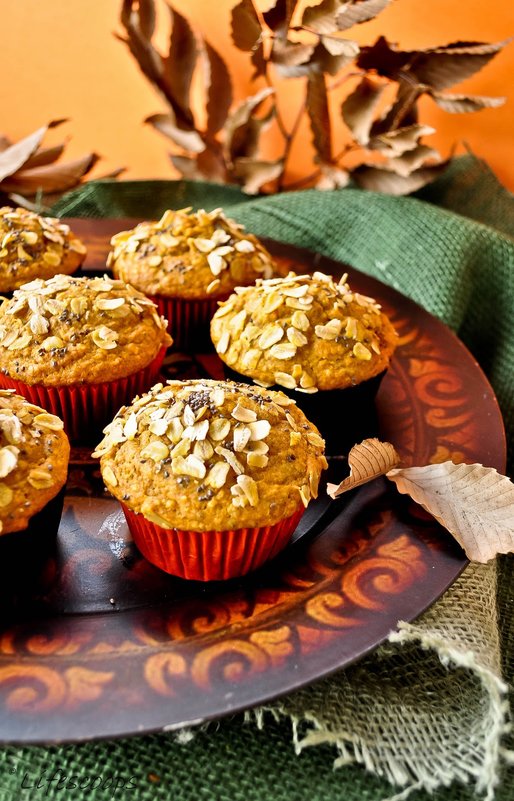 Pumpkin Oats Muffins with Cranberries and Chia Seeds
Ingredients
1 Cup – Oats
1 Cup – Buttermilk
1 – Egg
1/2 Cup – Oil
½ Cup – Brown Sugar
1/2 Cup – Pumpkin puree (*Refer the steps above to make your own at home)
1 cup – Whole Wheat Flour
½ Tsp Baking Soda
1 ¼ Tsp – Baking Powder.
1/2 Tsp – Salt
1 Tablespoon – Chia seeds
1/2 Tsp – Cinnamon powder
1/2 Tsp – Nutmeg powder
1/2 Cup – Dried Cranberry

Topping

1 Tablespoon – Chia seeds
1/4 Cup – Oats
Instructions
Preheat the oven at 350F
In a bowl mix oats and buttermilk and keep aside.
Beat the egg, oil, pumpkin puree and brown sugar until they are blended well
Mix in the oats-buttermilk mixture.
Add the dry ingredients – Whole wheat flour, baking powder, baking soda, cinnamon, nutmeg, salt, chia seeds and mix on low speed to avoid splashes
Add in the cranberries.
Beat until all ingredients are mixed in well.
Pour into Muffin trays and top each muffin with some chia seeds and oats.
Bake at 350F for 30 minutes or until the toothpick-test comes out clean when inserted into the muffin.
https://stlcooks.com/pumpkin-oats-muffins-with-cranberries-and-chia-seeds/
Recipe and Photo: Life Scoops / CC BY