Jump to recipe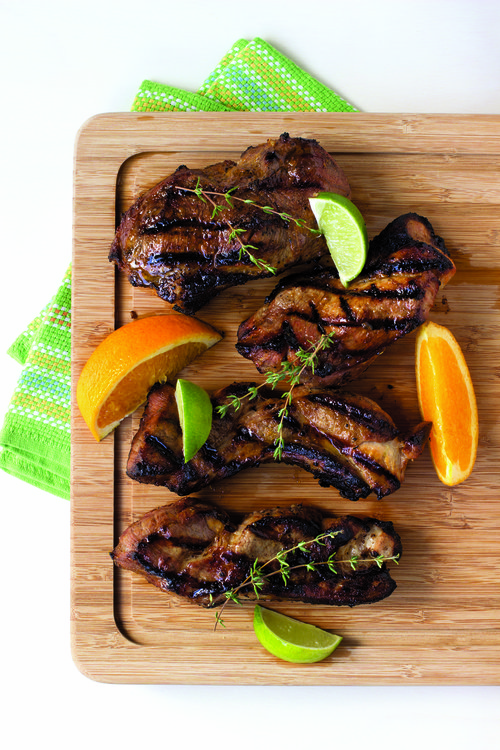 The aromatic flavors and wholesome ingredients found in comfort food can take us back to another place in time – a place that conjures up happy, feel-good memories, along with the completely satisfied feeling that comes after enjoying a hearty meal. But those same flavors and ingredients can also serve as a foundation for creating new, inspiring twists on traditional dishes from the past.
For James Beard Award winner, author and chef, Michelle Bernstein, the traditional dishes she remembers most vividly from her childhood include traditional American-style BBQ pork ribs and pork marinated in mojo – a simple, Latin-influenced sauce that varies in spiciness and typically includes citrus, garlic and cumin. To honor these two favorite recipes from her past, chef Bernstein created a new, flavor-filled recipe that infuses classic country-style pork ribs with a zesty, savory mojo sauce.
"I knew there couldn't be anything more perfect than marinating pork ribs in mojo – not just because the ingredients remind me of my heritage, but because ribs are so easy to make and so great to pair with different flavors," said chef Bernstein. "After marinating them in the mojo sauce and grilling them for about 15 minutes, you'll have incredibly tasty, tender and juicy ribs the whole family will love – and probably ask for again and again."
For more modern interpretations of classic comfort food – as well as generations-old standbys from chef Bernstein and leading food bloggers, visit PorkBeinspired.com/CookingForComfort to download the National Pork Board's "Cooking For Comfort" free e-cookbook.
Country-Style Pork Ribs with Mojo

Notes
Stay in the Caribbean style and serve these ribs with grilled plantains or coconut rice. If you like, you can use the mojo marinade on other cuts of pork as well – try it with roasts, chops and tenderloins.

Ingredients
12 cloves garlic, smashed
About 2/3 cup canola oil
3 oranges
4 limes
3 tablespoons adobo sauce, from a can of chipotles in adobo
3 tablespoons packed brown sugar
3 tablespoons olive oil
Leaves from 4 sprigs thyme
1 teaspoon ground cumin
1/2 teaspoon pepper
1/4 teaspoon ground coriander
2 pounds pork country-style ribs
Instructions
In small saucepan over medium heat, combine garlic and enough canola oil to barely cover it. Bring to a boil, reduce to a simmer, and cook until garlic is tender and lightly golden, about 5 minutes. Strain and set the garlic aside.
Zest oranges and set zest aside. Juice oranges and limes. In jar of a blender, combine orange juice, lime juice, garlic, adobo sauce, brown sugar, olive oil, thyme, cumin, pepper and coriander and process to puree. Stir in zest. Transfer to large resealable bag and add pork. Set aside in refrigerator overnight.
Prepare grill to medium heat and lightly oil grate. Remove pork from marinade and grill, turning occasionally, until ribs are tender. Remove ribs from grill and let rest 3 minutes.
Source: National Pork Board