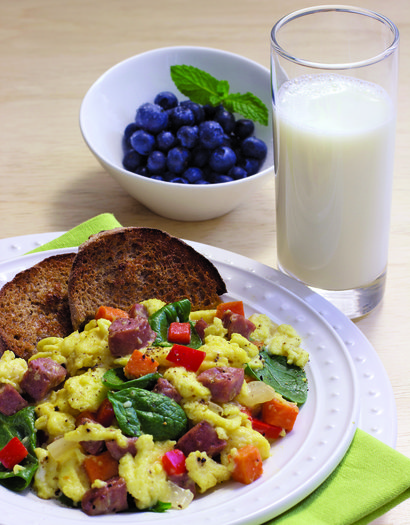 Today, 85 percent of Americans fall short of the USDA's recommended three daily servings of fat free or lowfat milk.1 Incorporating milk into your morning meal is an easy way to help close the gap between actual and recommended milk intake. The USDA's MyPlate is a visual tool to help build a nutritious breakfast, and a reminder that lowfat or fat free milk should be incorporated into your daily meals, including breakfast.
Milk is the top food source for three out of the four "nutrients of concern" including calcium, potassium and vitamin D. It's also packed with nine essential nutrients including 8 grams of high-quality protein. Opt for fat free milk for the same nutritional benefits with lower fat and calories.
With B vitamins for energy, protein for lean muscle, vitamin A for a healthy immune system and five bone-building nutrients, all milk – including fat free or lowfat milk – packs the same nutrient-rich punch. So, whether in a glass or served in a bowl, milk is a versatile beverage for any breakfast.
Try this recipe, paired with a glass of milk, for a morning meal that gets you off to the right start. For more breakfast tips and recipes, visit http://thebreakfastproject.com/. Also, follow the Milk Mustache Campaign on Facebook at https://www.facebook.com/MilkMustache, and Twitter
Ingredients
1/2 cup (4 ounces) chicken apple sausage, diced
1/4 cup onion, diced
1/4 cup red pepper, diced
1/4 cup sweet potato, diced
4 eggs
2 tablespoons lowfat or fat free milk
1/2 cup fresh spinach leaves, chopped
Salt and pepper
2 whole wheat English muffins, split, toasted
Instructions
Coat nonstick skillet with nonstick spray; heat over medium. Add sausage, onion, red pepper, and sweet potato and cook, covered, stirring often, until vegetables are tender (test a chunk of sweet potato to be sure).
Meanwhile, beat eggs with milk in small bowl until blended. When vegetables are tender, transfer them to a plate. Return skillet to burner, add egg mixture and cook, stirring often, until eggs are softly scrambled.
Off heat, stir in spinach, reserved sausage mixture, salt, and pepper.
Serve immediately with toasted English muffin half.
https://stlcooks.com/chicken-sausage-scramble/
Source: National Milk Mustache "got milk?"(r) Campaign