Jump to recipe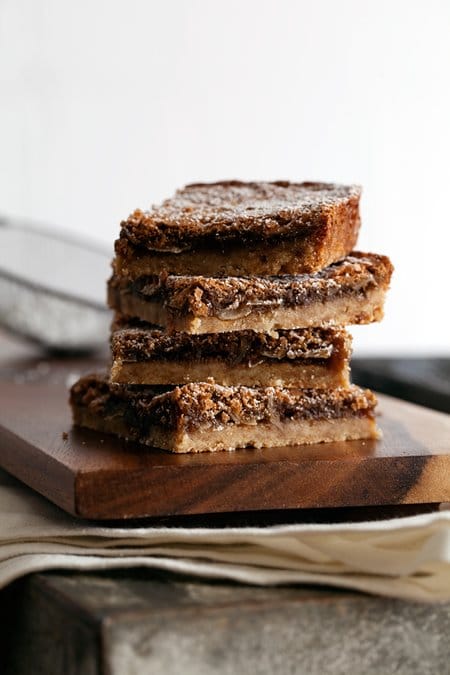 Mocha Dream Bars

Ingredients
3/4 cup butter, plus
1 tablespoon butter
1 tablespoon baking cocoa
1/2 cup Sugar
6 tablespoons ground espresso powder (fine grind)
1 egg, beaten
1 teaspoon vanilla extract
2 cups graham cracker crumbs
1 cup macadamia nuts or walnuts, chopped
1 cup shredded coconut
2 cups icing sugar
2 tablespoons hot espresso, liquid
3 ounces semisweet chocolate
Instructions
Coat an 8" x 8" square pan with butter or oil.
For bottom layer:
Melt 1/2 cup butter in a bowl in the microwave. Stir in the cocoa, Sugar and 4 tbsp of the ground coffee.
Add the egg and vanilla; mix completely. Gradually stir in the graham cracker crumbs (mixture will be thick).
Mix in nuts and the coconut. Press into pan; chill. cream 1/4 cup of the butter until soft. Gradually add the Sugar; mix until smooth.
Stir in ONLY enough liquid espresso to make mixture smooth and easy to spread. Spread the mixture over the bottom layer.
For Top Layer:
Melt the chocolate and the remaining 1 tbsp butter in the microwave. Stir in remaining of the GROUND coffee.
Spread thinly and evenly over the second layer; Chill.
After the top layer is set (refrigerate for at least 1 hour), cut into squares and serve.
Recipe and Photo: recipes.wikia.com / CC BY-SA