Jump to recipe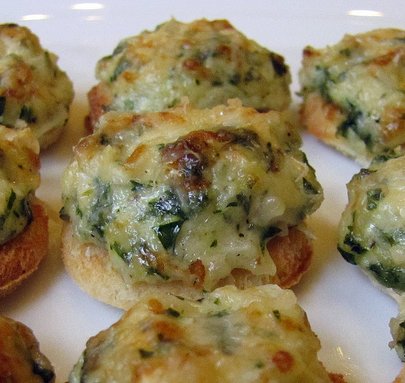 Easy Onion Cheese Puffs

Ingredients
1/2 small sweet yellow onion, finely chopped
1/2 cup mayonnaise
3 tbsp. Parmesan cheese, freshly grated
2 tbsp. fresh parsley, finely chopped
Sea salt and freshly ground pepper
8 slices of white bread
Instructions
Preheat oven to 350°. Mix onion, mayonnaise, parmigiano-reggiano, and parsley in a medium bowl. Season with salt and pepper.
Remove crusts from the bread. Using a 1? round cookie cutter, cut bread into 32 rounds. Place on a cookie sheet and bake, without turning, until golden, 10–15 minutes.
Preheat broiler. Spread about 1 tsp. onion mixture onto each round, then sprinkle with more parmigiano-reggiano and brown under broiler for 1–2 minutes. Serve immediately.
Recipe and Photo: Foodista / CC BY