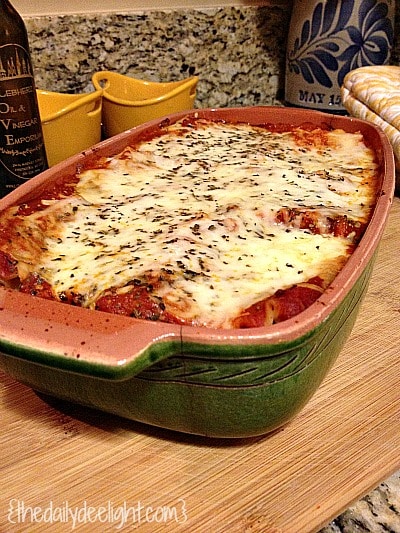 Ingredients
Italian Chicken Sausage, (2 links) casings removed
1 cup cherry tomatoes, sliced
4 cups fresh baby spinach
2 cups ricotta cheese, skim
4 cups jarred marinara sauce
1 egg, whipped
6 lasagna noodles, cooked
1 tbsp garlic, minced
2 tbsp EVOO
1 cup shredded mozzarella cheese
1 cup shredded parmesan cheese
Italian seasoning
salt & pepper
Instructions
Begin by pre-heating the oven to 375 degrees.
Next heat EVOO and garlic over medium heat. As soon as garlic becomes fragrant, add chicken sausage and tomatoes. Break sausage apart into small pieces as it browns, about 3-4 minutes.
Once sausage is browned, add spinach. Season with Italian seasoning, salt and pepper. Stir and combine with sausage mixture. Remove from heat once spinach is cooked and mostly wilted.
Combine sausage mixture with ricotta in a large mixing bowl. Stir in whipped egg and remaining Italian seasoning.
Pour 2 cups of marinara sauce to cover the bottom of your baking dish.
Start creating roll-ups by spooning 1-2 (large) tablespoons of the ricotta mixture onto each cooked lasagna noodle. Then starting at one end, begin rolling lasagna noodle up until it looks like a pinwheel. Place roll-up on top of marinara sauce in the baking dish. Repeat this with all 6 lasagna noodles.
Cover roll-ups with remaining marinara sauce. Top with parmesan cheese, mozzarella cheese and Italian seasoning . Cover with foil and bake for 20 minutes. Remove foil and finish baking for 5-10 minutes, or until sauce is bubbly and cheese is melted.
https://stlcooks.com/lasagna-roll-ups/
Recipe and Photo: The Daily Deelight / CC BY-SA (Be sure to visit The Daily Deelight to see step-by-step photos on how to make this tasty dish!)