Jump to recipe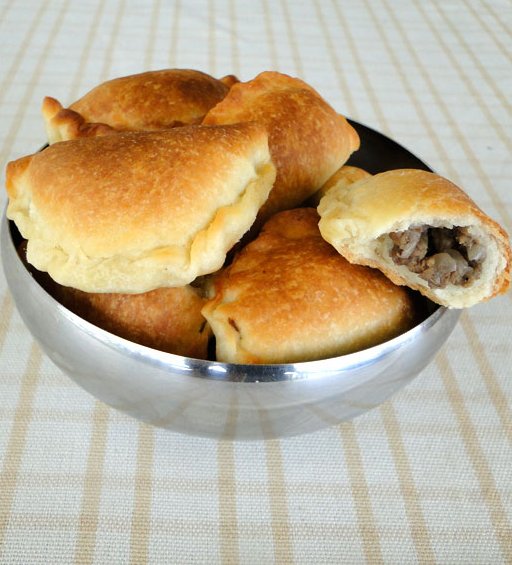 Meat Pies

Ingredients
3 cups all-purpose flour
1/4 cup vegetable oil
1 egg
salt
1 tsp yeast
3/4 cup lukewarm whole milk
Filling:
1/2 lb ground beef or lamb
1 large onion finely chopped
a handful of pine nuts
black pepper
salt
1/2 tsp all-spices
2 tbsp oil
Instructions
Put the flour in a deep bowl, add the salt and yeast. Add the oil and the egg and rib with fingertips. Add milk a little at a time, mixing thoroughly until dough is binding. Cover the dough with a towel and let rest in a warm place for one hour.
Filling: Heat the 2 tbsp of oil in a frying pan, then saute the onions until transparent. Add the pine nuts then the ground meat and brown. Season with salt and spices. Allow to cool.
Roll the dough about 1/16 inch thick and cut circles about 3 inch diameter.
Place a tsp of meat in the center of each round and seal then twist the edges.
Preheat the oven at 350ºF and bake the meat pies until golden brown. You can also deep fry the samboosak on both sides. Serve hot.
Recipe and Photo: Chicho's Kitchen / CC BY