Jump to recipe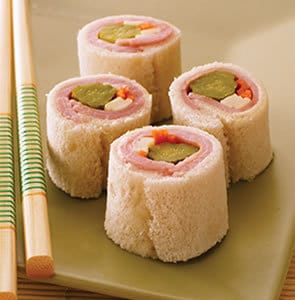 Kid Sushi

Ingredients
2 slices whole grain white bread
1 teaspoon low-fat ranch dressing
2 slices Honey Ham
2 slices Swiss Cheese, cut into 2-inch by 1/4-inch strips
1 tablespoon shredded carrot
2 sweet baby pickles
Instructions
Trim crust from bread. Place both pieces of bread side-by-side on a work surface, with one slice overlapping the other. Press bread slices where they overlap to fuse together. Spread bread with ranch dressing.
Layer bread with ham, Swiss, and carrots.
Place two pickles horizontally and end-to-end at bread edge closest to you. Roll bread from bottom up to make tight cigar-shaped roll.
Cut roll into sushi-sized pieces approximately one inch in length.
Recipe and Photo Courtesy of Sara Lee Premium Meats