Jump to recipe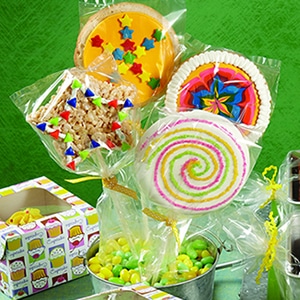 Kaleidoscope Cookie Pops

Ingredients
2-3/4 cups all-purpose flour
1 teaspoon baking powder
1 teaspoon salt
1 cup (2 sticks) butter, softened
1-1/2 cups granulated sugar
1 egg
1-1/2 teaspoons vanilla extract
1/2 teaspoon almond extract
Round Comfort Grip Cutter
Assorted Colors Cookie Icing
Assorted Jumbo Sprinkles or other favorite
Sugars and Sprinkles
Cookie Treat Sticks
Candy Melts candy (optional)
Instructions
Preheat oven to 350°F.
In small bowl, combine flour, baking powder and salt. In large bowl, beat butter and sugar with electric mixer until light and fluffy. Add egg and extracts; mix well. Do not chill dough. Divide dough into 2 balls. On floured surface, roll each ball into a circle approximately 12-inch diameter x 1/8-inch thick. Dip cookie cutter in flour before each use. Bake cookies on ungreased cookie sheet 8 to 11 minutes or until cookies are lightly browned. Cool cookies completely.
Outline and fill-in cookie with Cookie Icing. Add zigzag border to some cookies. If desired, pipe alternating circles of colors onto cookie surface; immediately pull toothpick through icing from center of cookie to outer edge, pulling colors through. Or, arrange sprinkles and sugars on iced cookie surface. Let dry.
Attach sticks to back of cookies with icing or melted candy. Let dry.
Recipe and Photo Courtesy of Wilton Enterprises