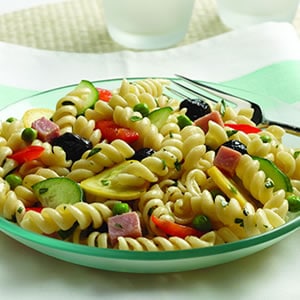 Recipe: Potluck Pasta Salad
Ingredients
1 box Rotini or Penne Rigate pasta
4 cups mix-ins (see below)
Herbed Vinaigrette
1/2 cup white wine vinegar or rice vinegar
1/3 cup olive oil
1 tablespoon Dijon mustard
1 clove garlic, minced
1/4 cup finely chopped fresh herbs such as thyme, basil, oregano, parsley
Instructions
Cook pasta according to package directions; drain. Rinse with cold water; drain again.
Add desired mix-ins and half of dressing. Toss to coat. Serve immediately or cover and refrigerate until chilled; toss before serving. Add additional dressing, as desired.
Herbed Vinaigrette
In small bowl, whisk together vinegar and oil. Whisk in mustard and garlic. Add herbs.
Quick notes
Suggested Mix-Ins:
* Crisp-tender cooked vegetables: green beans, broccoli, asparagus, corn, sugar snap peas, green peas, edamame, zucchini, yellow squash
* Raw vegetables: shredded or sliced carrots, tomatoes, cucumber, bell pepper, celery, avocado, spinach, radish, onions
* Other: olives, cheese – shredded or crumbled, herbs
* Meats: Salami strips, cooked chicken, tuna, shrimp, crabmeat, ham, beef steak slices, prosciutto
Recipe and Photo Courtesy of Dreamfields Foods