Jump to recipe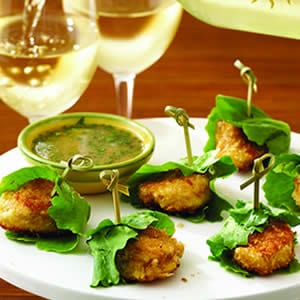 Lettuce-Wrapped Chicken Piccata

Ingredients
1 pound chicken tenders, cut into bite-size chunks
Flour for dredging
2 eggs
2 tablespoons milk
2 cups fresh or panko breadcrumbs
6 tablespoons butter, divided
1 1/2 teaspoons flour
1/2 cup Mirassou Sauvignon Blanc
1/4 cup chicken broth
1/4 cup fresh lemon juice
3/4 teaspoon sugar or to taste
2 cloves garlic, minced
About 26 small pieces escarole leaves
Instructions
Dip chicken pieces in flour, then in egg mixture, then in breadcrumbs.
Melt 4 tablespoons butter in a large skillet; add chicken and cook over medium heat for about 5 minutes on each side or until golden brown.
Remove from skillet and add remaining butter. Stir in flour and cook for 1 minute.
Add wine, broth and lemon juice, sugar and garlic to skillet; cook for about 5 minutes; remove from heat and let cool slightly.
Wrap chicken in escarole leaves and secure with toothpicks. Serve with lemon butter sauce from pan.
Recipe and Photo Courtesy of Mirassou Winery