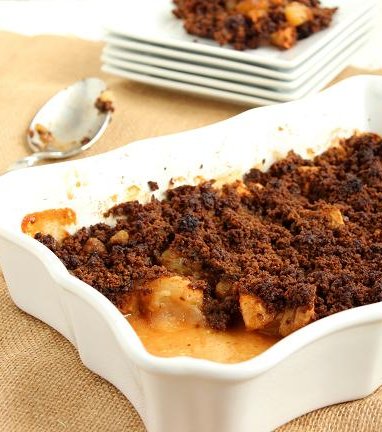 Ingredients
5 apples, peeled and chopped (I used a combination of Fuji and Honeycrisp)
1/2 teaspoon ground cinnamon
1/4 teaspoon ground nutmeg
1 lemon, juice and zest
3 tablespoons light brown sugar, divided
25 Ginger Snap cookies
1 stick unsalted butter
Instructions
Preheat oven to 375 degrees.
Grease a shallow 2-quart baking dish with butter or cooking spray.
In a large bowl, combine the cinnamon, nutmeg, lemon juice, zest and 1 tablespoon of brown sugar. Stir to coat the apples thoroughly. Set aside.
In a food processor or blender, add the cookies and pulse until crumbly.
Pour the cookies into a bowl with the remaining brown sugar and butter. Using a pastry blender or your hands combine the mixture until clumps start to form, about the size of peas.
Transfer the apples to the baking dish and sprinkle the cookie mixture over top.
Place the baking dish on a baking sheet and bake until bubbling, approximately 55-60 minutes. Remove and cool for 10 minutes before serving.
Serving suggestion….top with freshly whipped cream or vanilla ice cream!
https://stlcooks.com/ginger-snap-apple-crisp/
Recipe and Photo: Foodista / CC BY