Jump to recipe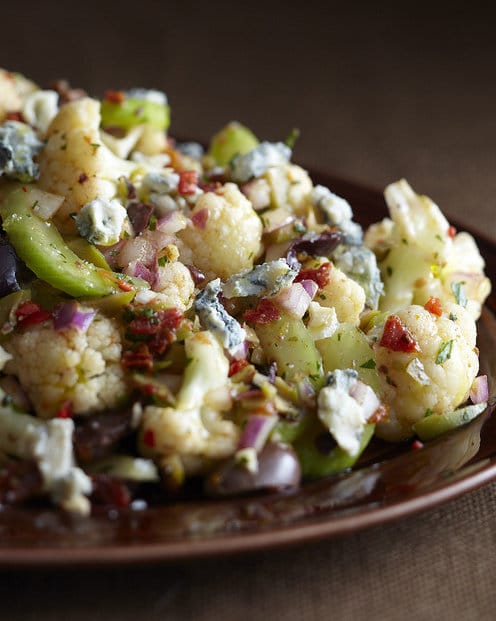 Although you can enjoy this salad at any time of year, I find that its refreshing crunch is especially welcome in winter
Winter Cauliflower Salad

Although you can enjoy this salad at any time of year, I find that its refreshing crunch is especially welcome in winter

Notes
Any or all of the following items would make good additions to the salad: sliced carrots, sliced fennel bulb, roasted peppers, or diced salami.

Ingredients
1 medium heat cauliflower, trimmed and cut into florets
1 large rib celery, sliced on the bias
1 cup coarsely chopped pitted olives (I use a mix of green and purple, such as ceringnola and gaeta or kalamata)
1 Tbsp coarsely chopped fresh flat-leaf parsley
2 garlic cloves, minced
1/4 cup diced red onion
2 Tbsp coarsely chopped slow-roasted tomatoes, or bottled sun-dried tomatoes
1 fresh chile pepper, very hot or mildly hot, your preference, minced
Finely grated zest of 1 lemon, plus 2 tablespoons lemon juice
1 tsp fine sea salt
1/4 to 1/2 cup extra virgin olive oil
3 to 4 oz gorgonzola piccante, crumbled
Instructions
Place a steamer basket in a large saucepan and fill the pan with water up to but not touching the bottom of the basket. Bring the water to a boil over high heat. Arrange the cauliflower in the steamer basket, cover, and steam until just tender, about 5 minutes.
Transfer the cauliflower to a large bowl. Add the celery, olives, parsley, garlic, onion, roasted tomatoes, and chile pepper and toss gently but thoroughly. Sprinkle the lemon zest and lemon juice over the salad. Season with the salt and toss again. Drizzle in the olive oil, starting with 1?4 cup/60 ml and adding more if you like. Cover the salad and let it marinate at room temperature for 30 minutes, or refrigerate until chilled if you prefer it cold. Right before serving, fold in the cheese.
Recipe and Photo: Foodista / CC BY