Jump to recipe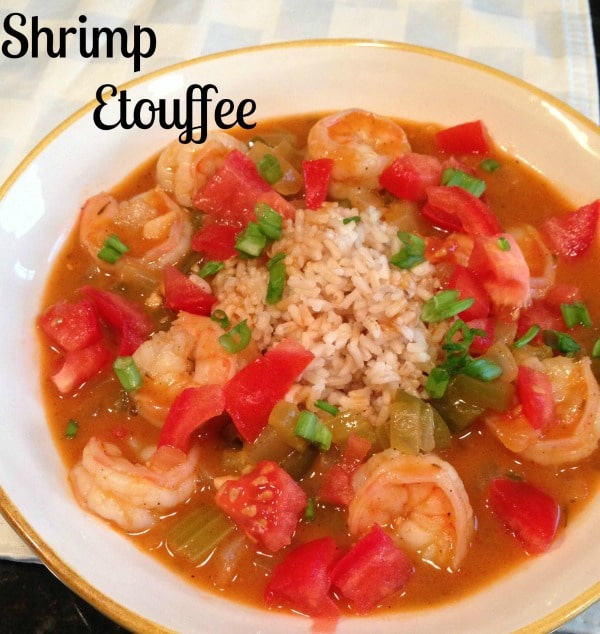 Shrimp Etouffee – Mardi Gras Eats

Ingredients
5 Tbsp butter
5 Tbsp flour
2 green bell peppers, small dice
2 celery stalks, small dice
1 yellow onion, small dice
4 garlic cloves, minced
1 Tbsp dried thyme
2 heaping Tbsp tomato paste
1 1/2 Tbsp Worcestershire sauce
1 Tbsp Creole seasoning
4 cups chicken broth
1 1/2 lbs shrimp, peeled and deveined
1 Tbsp butter
scallions and diced fresh tomato for garnish
Instructions
Heat up a heavy pot over low heat. Add in the butter and cook for about 10-12 minutes until a light golden brown. Be sure to stir around a few times to prevent burning.
Whisk in the flour until smooth and cook again for about 8 minutes on low. It should look like a slightly loose peanut butter when its ready.
Add in the bell peppers, celery and onion. Stir and coat the veggies with the roux. Cook for another 10-15 minutes, until the veggies are softened.
Stir in the garlic and thyme and cook for a minute, until the garlic is fragrant.
Add in the tomato paste, Worcestershire sauce, creole seasoning and broth. Simmer on low for 30-40 minutes until slightly thickened. Stir occasionally.
Stir in the shrimp, shut the heat and put the lid on. Allow to cook for about 5-8 minutes or until cooked through. Stir in a Tbsp of butter right at the end.
Serve over rice and garnish with sliced scallion and fresh diced tomato.
Recipe and Photo: Foodista / CC BY