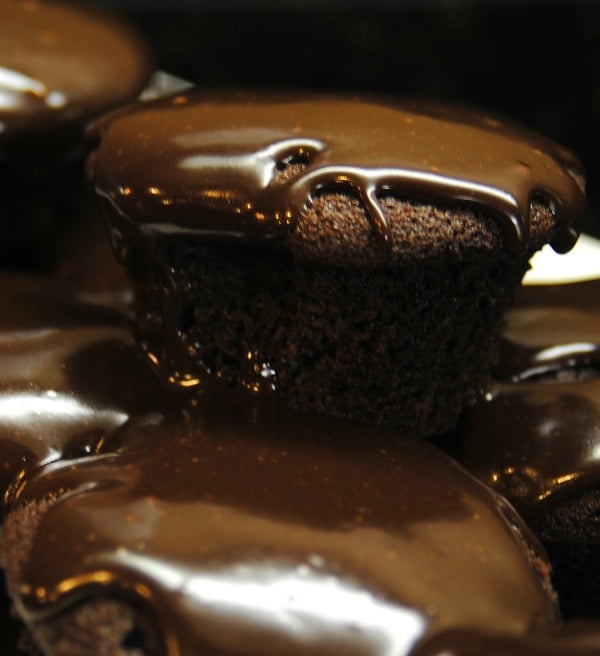 Chocolate Guinness Cupcakes with Cocoa Glaze
Ingredients
Chocolate Stout Cupcakes:

1 cup of flour
1/3 cup of cocoa powder
1/2 cup of white sugar
1/2 cup of brown sugar
1/2 cup beer (Guinness or other Stout)
1 egg
1 cup of butter 1/2 cup butter (revised and proven to be just as moist)
1/4 cup sour cream
1/2 tsp baking soda
Whipped Cream (optional)

Chocolate Glaze:

1/4 cup unsalted butter
1/2 cup bittersweet chocolate, chopped
1 cup confectioners' sugar, sifted
1/8 cup whole milk
1/2 tsp vanilla extract
Instructions
Chocolate Stout Cupcakes:

Preheat oven to 350 degrees and fill your cupcake tin with paper cups. Set aside.
In microwave, melt butter and brown suger. Remove when butter is melted and whisk till smooth and sugar is dissolved. Add Guinness and cocoa powder and whisk again, till combined and creamy.
In another bowl, sift together salt, flour, white sugar and baking soda. Add flour mixture to Guinness mixture and beat with a whisk, by hand, till smooth and combined. Add egg and sour cream and beat again until solid in color.
Divide batter evenly amongst cupcake cups. Bake for 20-25 minutes or till cupcakes spring back to the touch. Cool for 45 minutes before removing paper cups and glazing.

Chocolate Glaze:

Combine butter, milk and vanilla in medium saucepan and heat over medium heat (preferably on gas stove), just until butter is melted. Decrease heat to low and add chocolate. Whisk until melted, then immediately turn off heat and add powdered sugar. Whisk until smooth. Let cool 5 minutes.
Stir again and pour over cooled cupcakes.
https://stlcooks.com/chocolate-guinness-cupcakes-with-cocoa-glaze/
Recipe and Photo: $10 Buck Dinners / CC BY-SA