Jump to recipe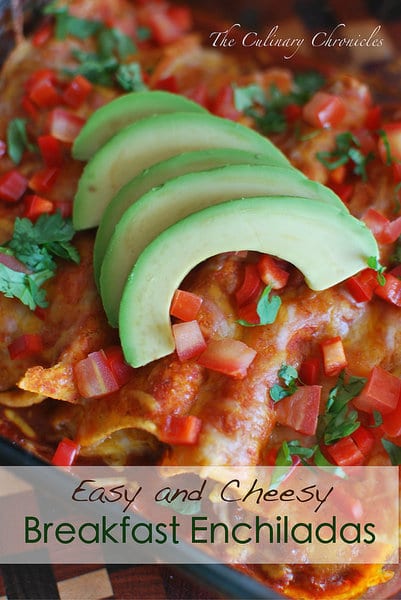 Easy and Cheesy Breakfast Enchiladas

Ingredients
4 large eggs, beaten
2 tablespoons milk
½ tablespoon taco seasonings
¼ teaspoon red pepper flakes
¼ cup chopped cilantro
1 tablespoons vegetable oil
½ pound breakfast sausage
½ cup diced yellow onion
1 small jalapeno pepper, seeded and minced
2 garlic cloves, minced
kosher salt and pepper
15–ounce can enchilada sauce
12 corn tortillas
2 cups shredded Monterrey Jack or Cheddar cheese
1 scallion, diced
½ cup finely diced tomatoes
½ cup finely diced red bell pepper
1 small avocado, diced or thinly sliced
sour cream and salsa, optional
Instructions
In a bowl, whisk together the eggs, milk, taco seasonings, red pepper flakes and 2 tablespoons cilantro.
In a skillet, heat the vegetable oil to medium and add the breakfast sausage. Use a wooden spoon to crumble the sausage and break into small pieces. Cook the sausage until browned and transfer to a plate.
Add the onions, jalapeno and garlic to the skillet and cook for 1 minute. Pour in the eggs. Continue cooking, gently stirring the eggs with a rubber spatula until the eggs have almost set. Fold in the cooked sausage and cook for an additional minute. Season with additional salt and pepper and remove the skillet from the stove to allow the mixture to slightly cool.
Preheat oven to 375 degrees F.
Coat the bottom of a 13 x 9-inch casserole dish with a few spoonfuls of the enchilada sauce. Pour the remaining sauce into a shallow dish. Wrap the tortillas in a kitchen towel and microwave for 30 seconds so that they become more pliable. Dip each tortilla into the dish of enchilada sauce to coat both sides. Place a few spoonfuls of the egg/sausage mixture in the center of each tortilla. Top with shredded cheese and roll the tortilla, securing all the fillings inside. Place the filled tortilla, seam side down into the casserole dish. Repeat with the remaining ingredients, placing each enchilada snuggly against each other.
Pour the leftover sauce over the enchiladas and top with the remaining cheese. Bake for 15-20 minutes or until the cheese has fully melted. Remove from the oven and top the enchiladas with scallions, tomatoes, bell pepper, avocado and the remaining cilantro. Serve warm with salsa and sour cream.
Recipe and Photo: The Culinary Chronicles / CC BY-ND