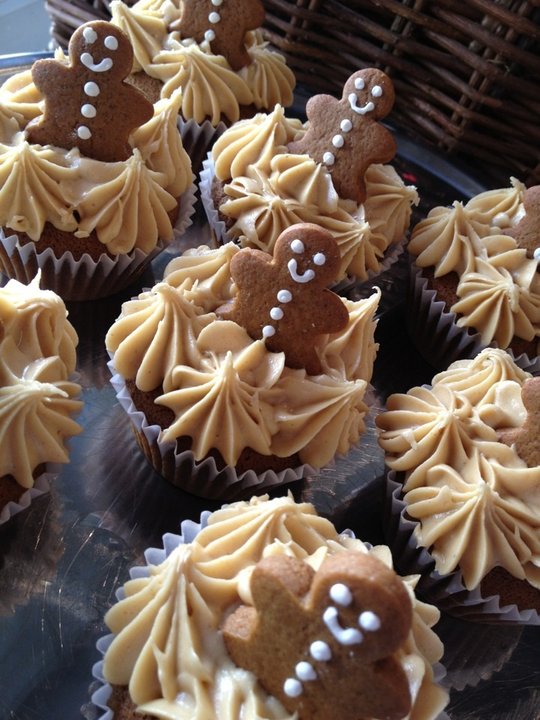 We are coming to the end of 2013. With that in mind, we are going to share the recipes that we posted over the year that got the most love. We will feature one recipe each day, and count them down. Which recipe came in at number one? Hit our site up on January 1st for the answer to that question (But don't ignore the rest of the list…as this is the best of our best for this year!).
Gingerbread Cupcakes – STLcooks Best of 2013 – Number 14
Ingredients
½ cup sugar
½ cup butter, softened
½ cup molasses
2 eggs
2 cups all-purpose flour
1 tsp baking soda
½ tsp salt
2 tsp ground ginger
½ tsp ground cinnamon
½ tsp ground cloves
¾ cup water

For the frosting

8 oz cream cheese, softened
1/4 cup butter, softened
1/4 teaspoon salt
2 teaspoon ground ginger
2 tablespoon molasses
2 pounds powdered sugar, sifted
Instructions
Place standard baking cup in each of 18 regular size muffin pan cups.
In large bowl, cream sugar and butter.
Mix in molasses; beat in eggs, one at a time.
In medium bowl, whisk together flour, baking soda, salt, ginger, cinnamon and cloves.
Alternately add flour mixture with water to the wet ingredients.
Scoop evenly among prepared muffin cups.
Bake in preheated oven (350 degrees F) for 18-20 minutes or until toothpick inserted in center comes out clean.
Cool 5 minutes in pan.
Remove cupcakes from pans to cooling rack, and cool completely, about 30 minutes.

For the frosting

Mix cream cheese and butter together until light and creamy. Add salt, ginger and molasses, mix well. Add powdered sugar and beat until whipped and creamy.
Frost the cupcakes and top each cupcake with a little gingerbread man.
https://stlcooks.com/gingerbread-cupcakes-stlcooks-best-of-2013-number-14/
Recipe and Photo: Recipes For You