Jump to recipe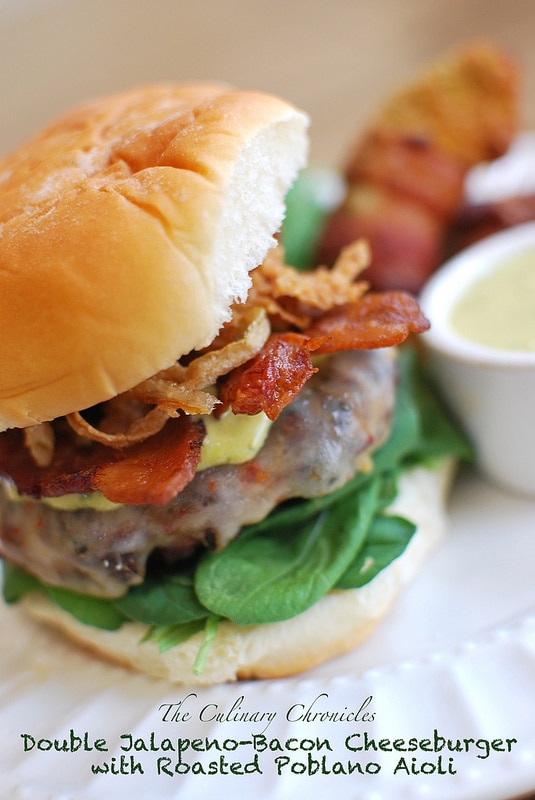 Double Jalapeno-Bacon Cheeseburgers with Roasted Poblano Aioli

Ingredients
1 large poblano pepper
½ tablespoon minced garlic
1 cup mayonnaise
½ tablespoon Dijon mustard
½ tablespoon fresh lemon juice
1 tablespoon finely chopped fresh cilantro
kosher salt
black pepper
1 pound ground beef (80/20 blend)
½ tablespoon garlic salt
½ tablespoon garlic powder
½ tablespoon onion powder
¼ teaspoon cayenne powder
1 tablespoon worcestershire sauce
1 pound cooked jalapeno bacon
vegetable oil
1 small yellow onion, thinly sliced into rings
½ cup flour
½ cup yellow corn meal
4 slices pepper jack cheese
1½ cups fresh arugula
4 burger buns, split and toasted
Instructions
Prepare the aioli. On your stovetop range, char the poblano pepper on all sides. This can also be done under your oven broiler. Once charred, place in a bowl and cover with plastic wrap for 10 minutes. This will help the skin loosen from the pepper. Once cooled, peel the skin from the pepper and discard along with the stem and seeds. Finely chop up the pepper and transfer to a clean bowl. Whisk in the garlic, mayonnaise, mustard, lemon juice and cilantro. Season with kosher salt and pepper. Cover with plastic wrap and refrigerate for at least one hour.
In a large bowl, mix the ground beef, garlic salt, garlic powder, onion powder, cayenne and Worcestershire. Season generously with kosher salt and pepper. Take ½ of the bacon and roughly chop into small pieces. Add the bacon to the beef and mix until just combined. Form the meat into 4 patties and create a small indentation in the center of each patty. This is to help the patties from puffing up. Transfer them to a plate and refrigerate for about 30 minutes.
Prepare the onion strings. Fill a heavy bottomed pot with 2 inches of oil. Heat to 375 degrees F. In a bowl, whisk together the flour, cornmeal, ¼ teaspoon black pepper, and ½ teaspoon kosher salt. In batches, place the onions into the dry ingredients, tossing well to coat. Gently shake out the excess and carefully lower into the oil. Fry the onions for about 5-6 minutes, stirring every so often until golden brown. Drain the onions on a plate lined with paper towels and season immediately with additional salt. Repeat until all the onions have been fried. Transfer the onion strings to a large baking sheet. Keep warm in a 200 degree F oven while you grill the patties.
Remove the patties from the refrigerator and lightly brush them with vegetable oil. Light your grill (or preheat grill pan). Place the patties over medium heat and grill on each side for about 4-5 minutes. About 1-2 minutes before the second side is done, lay one slice of cheese over each patty. Cover the grill and cook until the cheese has melted. Remove the patties and tent with aluminum foil while you're assembling the burgers.
On a toasted bun, place a small mound of the arugula and then lay a patty on top. Spread a few spoonfuls of the aioli on top of the patty before adding a few strips of the remaining bacon. Next, add a small pile of the crispy onion strings and then top off with the other side of the bun. Serve immediately.
Recipe and Photo: The Culinary Chronicles / CC BY-ND