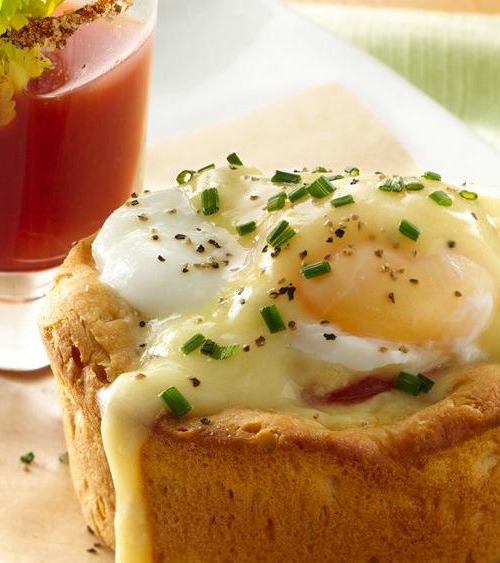 Easter Brunch Eggs Benedict Biscuit Cups with Bloody Mary Shooters
Ingredients
Eggs Benedict Biscuit Cups

1 package (1.25 oz) hollandaise sauce mix
1 can (16.3 oz) Pillsbury® Grands!® refrigerated buttermilk biscuits
1 package (6 oz) Canadian bacon slices or cooked ham, cut into fourths
1 plum (Roma) tomato, cut into 8 thin slices
8 eggs
2 teaspoons chopped fresh chives
Salt and pepper, if desired

Bloody Mary Shooters

1 cup bold and spicy Bloody Mary mix
1/4 cup vodka
Instructions
Heat oven to 350°F. Make hollandaise sauce as directed on package.
Meanwhile, spray 8 jumbo muffin cups or 8 (6-oz) glass custard cups with cooking spray. Separate dough into 8 biscuits. Press or roll each to form 5-inch round. Place 1 biscuit in each muffin cup, pressing dough three-fourths of the way up sides of cups. Place 3 Canadian bacon pieces in each biscuit cup. Spoon 1 tablespoon hollandaise sauce in each biscuit cup on top of the Canadian bacon. Place 1 tomato slice in each muffin up and top with another 1 tablespoon hollandaise sauce.
Bake 25 to 30 minutes or until muffin edges turn golden brown.
Meanwhile, in 10-inch skillet, heat 2 to 3 inches water to boiling; reduce heat so water is simmering. Break cold egg into custard cup or small glass bowl. Holding cup close to water's surface, carefully slide egg into water. Repeat with 3 more eggs. Cook uncovered 3 to 5 minutes or until whites and yolks are firm, not runny. Remove eggs with slotted spoon; cover with foil to keep warm. Repeat with remaining 4 eggs.
Place 1 poached egg on each biscuit. Spoon slightly less than 1 tablespoon hollandaise sauce over each egg, and top each with 1/4 teaspoon chopped chives and salt and pepper. Run small knife around cups to loosen.
Stir together Bloody Mary mix and vodka; pour into 8 shot glasses. Serve on the side. Serve immediately.
https://stlcooks.com/easter-brunch-eggs-benedict-biscuit-cups-with-bloody-mary-shooters/
Recipe and Photo: Foodista / CC BY