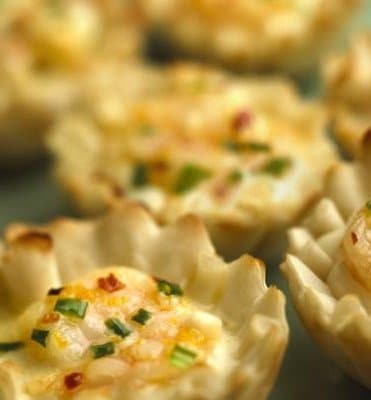 Creme De Brie Shrimp Cups
Ingredients
2 packages (2.1 oz each) frozen phyllo tartlet shells
1 package (5 oz.) Alouette Crème de Brie, Original, at room temperature
30 ounces cooked frozen (thawed) or fresh salad shrimp (about ? of a 7 pkg.)
2 tablespoons extra virgin olive oil
1/2 teaspoon grated orange peel
1 tablespoon orange juice
1 tablespoon chopped chives
1/4 teaspoon crushed red pepper flakes
1/8 teaspoon garlic, finely minced
Instructions
Preheat oven to 350° F
Arrange tartlet shells on a baking sheet. Spoon a scant teaspoon of Alouette® Crème de Brie in each shell.
In medium bowl, combine shrimp and all remaining ingredients. Toss to coat shrimp.
Place 1 shrimp over cheese in each shell. Spoon a little orange juice-chive mixture over shrimp.
Place in the oven for 5 minutes or until lightly brown. Serve immediately.
https://stlcooks.com/creme-de-brie-shrimp-cups/
Recipe and Photo: Foodista / CC BY