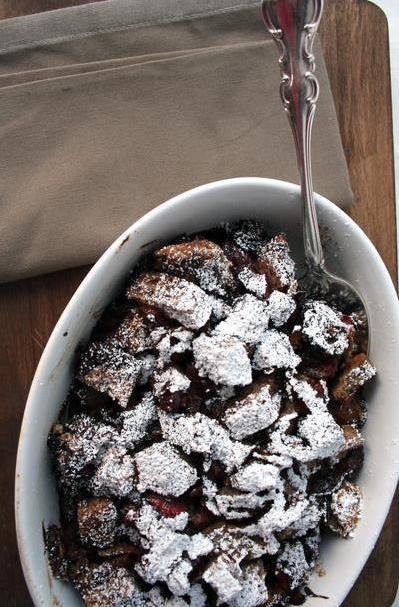 Cherry Chocolate Bread Pudding
Ingredients
4 ounces Semi Sweet Chocolate, roughly chopped
2 cups Bread (Crusts), any kind, whole wheat, flax, 1 cup Milk (Soy, if you're allergic)
1/2 teaspoon Vanilla
1 tablespoon Brandy
3 tablespoons Sugar
1 tablespoon Arrowroot Powder, cornstarch will work as a substitute
Pinch of Salt
1 cup Fresh Cherries, pitted & roughly chopped – dried may be substituted when out of season
3 tablespoons Cocoa Nibs, very optional but quite delicious
Instructions
Preheat the oven to 350ºF.
Cube the bread and set aside in a large bowl.
Melt chocolate in a heat proof bowl over a pan of simmering water (or in a double boiler), stirring occasionally until smooth.
Measure milk in a pourable measuring cup.
Add the vanilla, brandy, sugar, salt and arrowroot powder, stirring well to incorporate and dissolve the arrowroot powder.
Pit the cherries, I used the flat side of my chef's knife to pop the cherry open and the pit little more than a flick from your fingertips.
Roughly chop the cherries, reserving as much of the juice as possible.
Pour the milk mixture over the cubed bread, then add the cherries and their juice along with the cocoa nibs, if using.
Toss well to coat the bread and to soak up the liquid.
Drizzle over the melted chocolate, stirring well to combine.
Pour mixture into a short baking dish or divide between 4 – 1 cup ramekins.
Bake for 15 minutes.
Best served warm and with just about any ice cream you like.
https://stlcooks.com/cherry-chocolate-bread-pudding/
Recipe and Photo: Foodista / CC BY