Jump to recipe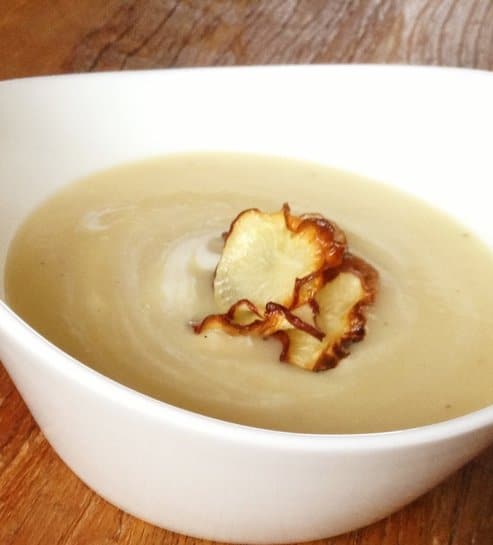 Creamy Turnip and Potato Soup

Ingredients
4 small potatoes, peeled and diced + some slices
3 turnips, peeled and diced + some slices
1 shallot, chopped
300 ml of bouillon (from stock)
A splash of white wine
Creme fraiche
Olive oil
Salt & pepper
Instructions
Preheat the oven at 285 F.
Heat a bit of olive oil in a pan and bake the shallot on low heat. Add the turnips and potatoes (the diced parts, not the slices) and bake everything for about 10 minutes. Add the bouillon and leave to simmer for about 15 minutes.
Place the slices of potato and turnip on a piece of baking paper on a baking tray, drizzle with olive oil and sprinkle with salt. Bake for about 20 minutes, until golden and crisp.
Test if the turnips and potatoes are soft enough for easy blending (I always test this by just sticking a fork in them). If they are, blend until you have a creamy substance (don't forget to turn of the heat while you do this, or you risk melting your blender). If the soup turns out too thick, add some water. Add a splash of white wine, some crème fraîche and salt & pepper to your likings. Decorate with the crisps just before serving.
Recipe and Photo: Foodista / CC BY