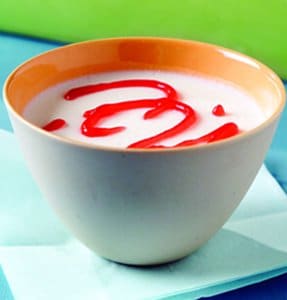 Recipe: Creamy Italian Pudding
Ingredients
1 envelope Knox unflavored gelatin
1-1/2 cups fat-free half-and-half, divided
1/2 cup granulated sugar substitute
1/2 teaspoon vanilla extract
1 container (15 ounces) Polly-O natural part-skim ricotta cheese
4 teaspoons sugar-free raspberry or strawberry jam or preserves
Instructions
SPRINKLE gelatin over 1/2 cup of cream in medium saucepan. Let stand 5 minutes to soften. Stir in remaining 1 cup cream, sugar substitute and vanilla. Cook on low heat until gelatin dissolves completely, stirring frequently. Do not boil.
POUR cream mixture into blender or food processor container. Add ricotta cheese; cover. Blend until pureed. Pour evenly into 8 (6-ounce) custard cups or souffle dishes. Refrigerate 2 hours or until set.
MICROWAVE jam in microwavable dish on HIGH 15 seconds. Spoon1/2 teaspoon of jam over each dessert. Serve immediately.
Recipe and Photo Courtesy of Kraft® Foods