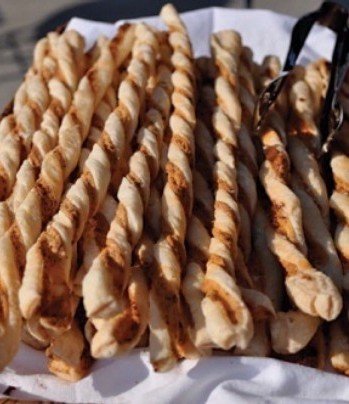 Recipe: Sundried Tomato and Basil Cheese Straws
Ingredients
1 package frozen puff pastry dough, usually 2 sheets, defrosted
1 container Boursin Sundried Tomato & Basil Gourmet Spreadable Cheese
Instructions
Heat oven to 350ºF and line 2 baking sheets with parchment paper or a silicon baking mat.
Place 1 sheet of pastry dough onto lightly floured surface. Use rolling pin to roll dough thinner, to approximately 1/4-inch thick and approximately 13 inches x 18 inches. Gently fold dough into quarters using extra flour to prevent sticking and set aside.
Repeat step 2 with second sheet of dough, but when you get dough thin, smear on container of Boursin using a rubber spatula and do not fold it.
Unfold first sheet of dough and line up on top of cheese. Use sharp knife or pizza wheel to cut short-wise across dough into 1/2-inch wide ribbons.
Twist each ribbon a few times as you transfer to baking sheets and gently press ends to keep from unfurling. Repeat with each straw, leaving 1 inch of space between each.
Bake about 12 minutes, until golden, puffed up, and the cheese is peeking out. Serve warm or at room temperature.