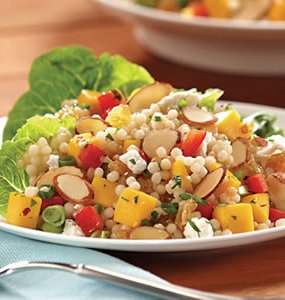 Almond and Mango Couscous Salad
Ingredients
Vinaigrette:

3 tablespoons rice vinegar
1/4 cup extra virgin olive oil
1/2 teaspoon salt
1/8 teaspoon crushed red pepper flakes
2 cloves garlic, chopped
1/4 cup chopped fresh cilantro
Couscous Salad:

1 tablespoon olive oil
1 3/4 cups pearl (Israeli) couscous
2 cups water
1 mango, peeled, pitted and diced
1/2 cup sliced green onions
1/2 cup diced red bell pepper
1/2 cup golden raisins
1 cup sliced almonds, toasted
1/2 cup crumbled feta cheese
---
Instructions
For vinaigrette: In a small bowl, whisk vinegar, oil, salt, crushed red pepper and garlic until combined. Stir in cilantro and cover and refrigerate until ready to use.
For salad: In a medium saucepan cook couscous for 1 minute in oil over medium-low heat to lightly toast, stirring frequently. Add water and reduce heat to low, and simmer covered for 10 minutes or until liquid is absorbed. Fluff with a fork and let cool slightly.
To assemble, transfer couscous to a large bowl and stir in dressing, mango, green onions, bell pepper and raisins; cover and chill for at least 1 hour. Just before serving sprinkle with almonds and feta.
https://stlcooks.com/almond-and-mango-couscous-salad/