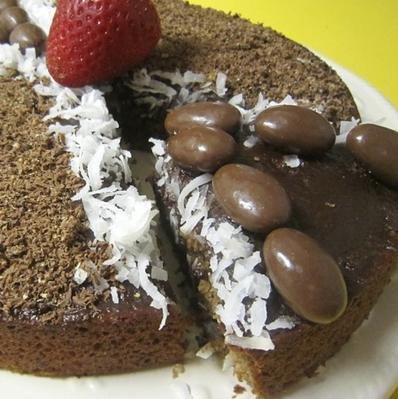 Ingredients
1 3/4 cups all-purpose flour
1/2 cup cocoa powder
1 cup brown sugar
1 1/2 teaspoons baking powder
1/2 teaspoon baking soda
1/2 teaspoon salt
2 large eggs [at room temperature]
1 cup mashed ripe bananas
1/2 cup coconut flakes
1/2 cup coconut milk
3/4 cup milk
1/2 cup canola oil
1 teaspoon pure vanilla extract

For decorating:

1/2 cup semi sweet chocolate bits or chips
1 tablespoon coconut cream
2 tablespoons chocolate shavings
2 tablespoons coconut flakes
Some chocolate crusted almonds
Instructions
Preheat oven to 350 F and spray a cake 9? cake pan with vegetable spray.Set aside.
On a newspaper, sift the sugar,flour, cocoa powder, baking powder, baking soda and salt at least 3 times.Mix with coconut flakes and keep aside.
In a large bowl, using a hand blender whisk together the eggs, mashed bananas,coconut milk,vanilla extract and milk until mixed well.
Add the flour mix to the wet mix slowly and mix gently to combine.The batter will be very thin.
Pour the batter into the cake pan and bake for around 35-45 minutes or until a skewer comes out clean.Mine took about 40 minutes.
Remove from the oven and let the cake cool on a rack.
Meanwhile melt the semi sweet chocolate on a water boiler.Once melted let it cool down a bit.Mix with coconut cream and brush this to top of the cooled cake.Use coconut flakes, chocolate shavings, strawberry or chocolate crusted nuts to decorate.
Serve a piece on its own or with a dollop of banana foster ice-cream.
https://stlcooks.com/choco-coco-banana-cake/
Recipe and Photo: Foodista / CC BY