Jump to recipe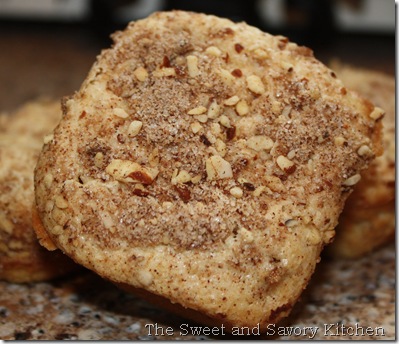 Recipe for Almond Coffee Cakes
Almond Coffee Cakes

Ingredients
For the Crumbled Almonds:
1/3 cup sugar
1 cup almonds
1 1/2 teaspoons ground cinnamon
For the Coffee Cake Batter:
1 stick unsalted butter, at room temperature
1/2 cup sugar
1/2 cup light brown sugar, packed
1 large egg
1 cup sour cream
1 teaspoon vanilla extract
1 cup all purpose flour
1 1/2 teaspoons baking powder
Pinch of salt
Instructions
Combine the ingredients for the crumbled almonds in a food processor and pulse until finely chopped. Set
aside.
Preheat oven to 350 degrees. Grease and flour 10 molds of a 12-mold mini square pan.
Combine butter and sugars in the bowl of an electric mixer and beat at high speed until light and fluffy.
Continue beating at medium speed and add egg, beating until combined. Add sour cream and vanilla extract and beat until combined.
In a small bowl, sift together flour, baking powder. and salt. Mix the dry ingredients into the butter and egg mixture just until combined.
Scoop about 2 tablespoons of batter into each mold. Spread 1 tablespoon of the crumbled almonds on top, followed by about 2 additional tablespoons of batter. Finish with a sprinkling of crumbled almonds. Bake for 20 to 30 minutes, or until cake tester inserted into center of cake comes out clean.
Cool on a wire rack for 10 to 20 minutes before turning the cakes out of their pans. Once turned over invert immediately to keep the crumbled almonds on top of cake.
Recipe and Photo: Whole Lotta Oven / CC BY