Jump to recipe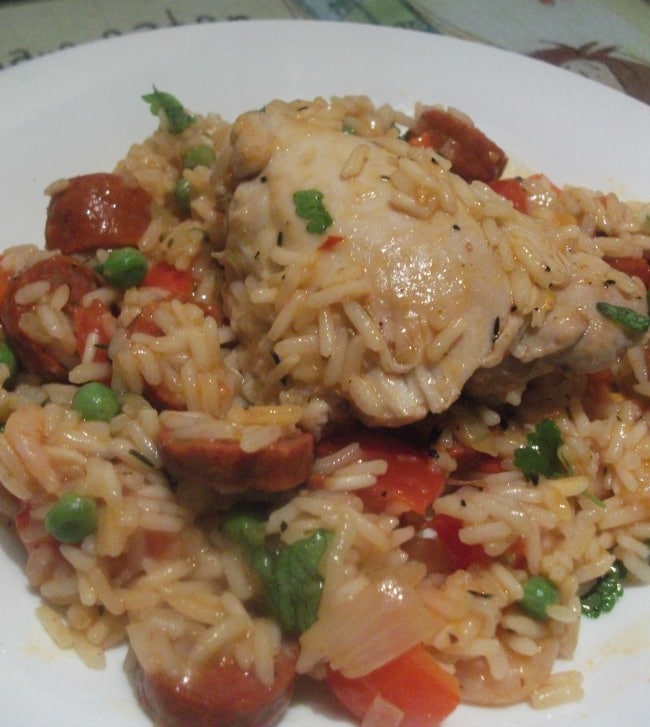 Ingredients
one small onion, chopped
two cloves of garlic, thinly sliced
several sticks of thyme
one chorizo ring, sliced
two chicken thighs, skinned (or four, if you're cooking for four)
200g long grain rice. This isn't proper paella rice but it works for me.
one red bell pepper, diced
six cherry tomatoes, quartered
small handful of frozen peas
handful of frozen prawns
handful of parsley, chopped
Instructions
The first thing I did was cook the onions, garlic and thyme in a little olive oil until the onions were transparent, then I added the chorizo. The onions soon took on the colour from the sausage and the whole kitchen smelled delicious – result. I pushed all the ingredients to the edge of the wok (gently though, I didn't want them to feel upset or upstaged) and put the chicken in to brown, letting it sit for five minutes on each side. I probably could have been doing with a little more oil before I did this, as the chicken did stick a little, but I wasn't cooking for the Queen or anything so it was alright, really.
Once the chicken was browned on both sides, I added the rice and stirred it around as best I could with those great lumps of chicken in the way. You want to get the rice all amongst the flavours without browning it, at this stage. Later, you're supposed to build up a browned layer on the bottom of the pan, but I've already admitted my ignorance on this point. We'll say no more about it. Once the rice had soaked up some colour and flavour, I added enough boiling water to cover it by a depth of about 1 cm. I left it at a good simmer for 15 minutes, and checked. The aim is to have the rice absorb all the water without becoming over-cooked. At 15 minutes it was still a bit more al dente than I wanted, but this was according to plan (no, really) because now I was going to add the peas, prawns, pepper and tomatoes to the pan, along with some seasoning, a teaspoon of chili flakes and a dash of jalapeno Tabasco. I stirred it all together and took off the heat, but covered over with this glass lid that definitely did not come with the wok. Does the job though, keeping everything warm and still cooking slightly, apart from those bits round the edges. They're fine, I'm sure they're fine.
Drizzle with some lemon oil and leave covered like this – or, with a proper lid or a sheet of tinfoil – for another five minutes, then stir through and taste. Also check that your poultry is cooked through, and not pink right at the bone like the piece I served the G man on Saturday. Mine was cooked through. I think I must have psychically known. Sh… Half an hour of cooking time should be enough for a normal sized thigh but if they're biguns, give them extra time at the start, before the rice goes into the pan (or wok) – maybe brown for eight minutes a side, something like that.Before serving, add a dash of lemon juice and stir through the parsley, as well as adjusting the seasoning if you need to. Et voila! Or whatever the Spanish equivalent is!
The great thing about paella is you can call it paella mixta and fire in whatever you fancy, or whatever you have to hand. More seafood is good – I was hoping to get langoustines but was disappointed. Mussels or clams are good in there, or different meats like rabbit or duck, and apparently snails are very traditional. It's a free for all, really. I wouldn't, and haven't, claimed to have the technique perfect, but it's not something to be scared of. Even if it turns out a wee bit mushy, who cares?
Recipe and Photo: This is Rock Salt / CC BY-SA