Updating familiar family recipes is a great way to turn them into new family favorites.
"Cooking with broth, in place of water, is a quick way to boost flavor in a dish," said Chef Amanda Freitag, judge on the Food Network series "Chopped." "When giving recipes a makeover, I like to use College Inn Broths, which are made from premium ingredients like plump chicken, tender beef, and farm-grown vegetables."
Amanda Freitag's Tips on Cooking with Broth
-Lighten up mashed potatoes by substituting College Inn(r) Chicken Broth for milk or cream and butter.
-Add flavor to rice and couscous by cooking with broth, instead of water.
-Freeze unused broth in an ice cube tray for future use.
These recipes were winners in the College Inn Ultimate Recipe Challenge contest, and are sure to be a hit at your family table. For more recipes, visit www.collegeinn.com. College Inn(r) Broth can be found at all major grocery retail stores.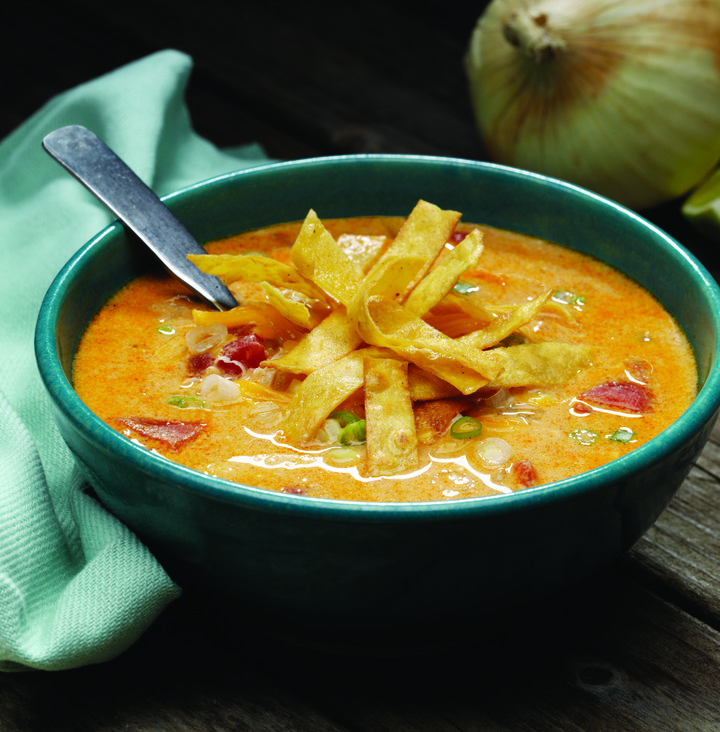 Creamy Chicken Enchilada Soup
Submitted by Pamela V.
Servings: 4 to 6
Prep Time: 20 minutes
Cook Time: 45 minutes
Soup:
4 to 5     boneless, skinless chicken thighs (1 pound)
1/2     cup canola oil, divided
1/2     teaspoon salt, divided
2     soft corn tortillas, sliced into 1/4-inch strips
1     small onion, diced
1     clove garlic, minced
1 1/2     teaspoons chili powder
1     teaspoon ground cumin
1/4     cup lime juice
1/4     teaspoon lime zest
1     quart College Inn(r) Chicken Broth
1     can (14.5 ounces) Del Monte(r) Diced Tomatoes, undrained
1     can (4 ounces) diced green chilies, drained
4     ounces reduced-fat cream cheese
Toppings:
Fried tortilla strips
1/2     cup shredded cheddar cheese
2     green onions, sliced into 1/4-inch pieces
1. Preheat oven to 350°F.
2. Place chicken in 8×8-inch glass baking dish. Brush with 1 tablespoon oil and sprinkle with 1/4 teaspoon salt. Bake 15 to 20 minutes or until no longer pink inside. Shred cooked chicken meat with 2 forks and set aside.
3. Heat remaining oil in small skillet. Add tortilla strips in 2 batches; fry until golden brown, about 2 minutes each batch. Drain on paper towel-lined plate. Sprinkle with 1/4 teaspoon salt and set aside. Reserve 1 tablespoon oil for Step 4.
4. Heat reserved 1 tablespoon oil in Dutch oven over medium heat. Add onions and cook until translucent, about 3 minutes. Add garlic and cook 30 to 60 seconds, stirring constantly. Do not brown garlic. Add chili powder and cumin; stir and cook 15 to 30 seconds.
5. Quickly stir in lime juice, lime zest, broth, tomatoes, and diced chilies. Bring mixture to a boil, and reduce heat to simmer. Add cream cheese. Simmer until cream cheese is melted.
6. Stir in shredded chicken, cook about 5 minutes.
7. Ladle into individual soup bowls, and garnish with tortilla strips, cheddar cheese and green onion.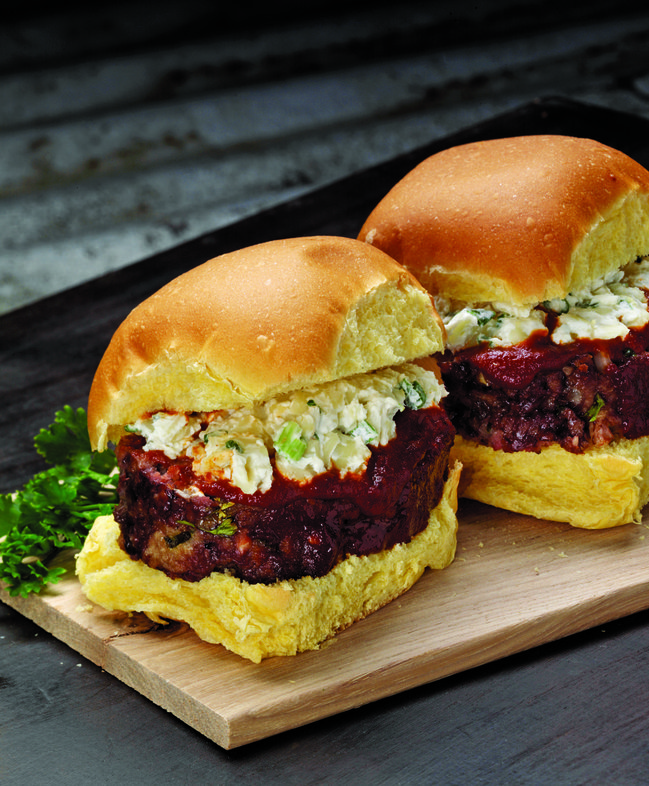 Cherry Bomb Meatloaf Sliders
Submitted by Richard S.
Servings: 4 to 6
Prep Time: 20 minutes
Cook Time: 55 minutes
Sauce:
1     cup chopped dried cherries
1     cup College Inn(r) Chicken Broth
4     cloves garlic
2     tablespoons balsamic vinegar
1     tablespoon Del Monte(r) Tomato
Paste
1/2     cup extra virgin olive oil
1     tablespoon hot sauce
Salt, to taste
Meatloaf:
1     pound lean ground beef
1/2     cup panko bread crumbs
1/4     cup finely chopped fresh
parsley
2     tablespoons minced onion
2     tablespoons pickle relish
1     clove garlic, crushed
Salt and ground pepper, to taste
1/2     cup College Inn(r) Beef Broth
1     egg, lightly beaten
Spread:
4     ounces cream cheese, softened
4     slices smoked provolone,
chopped
2     teaspoons chopped chives
1/2     teaspoon Worcestershire sauce
12     Hawaiian or Portuguese sweet
dinner rolls, sliced
1. Preheat oven to 350°F.
2. To prepare sauce, combine cherries, chicken broth, garlic, balsamic vinegar and tomato paste in medium saucepan. Cook over medium heat 15 minutes or until thick and bubbly. Remove from heat and pour into food processor; process 2 minutes, drizzling in olive oil and hot sauce until fully emulsified. Season with salt, if desired. Set aside.
3. To prepare meatloaf, break up ground beef into large chunks in medium bowl. Mix in the bread crumbs, parsley, onion, relish and garlic; season with salt and pepper, if desired. Add beef broth and egg, mixing until combined.
4. Place meatloaf mixture diagonally into a 9×13-inch baking pan, making a long log (15 inches long x 2 inches wide). Smooth the top and bake 30 minutes. Brush with 2 tablespoons of sauce to glaze. Bake an additional 15 minutes and remove from oven. Let meatloaf rest 10 minutes before slicing.
5. To prepare spread, combine cream cheese, provolone, chives and Worcestershire sauce in a small bowl, stirring to create a thick spread.
6. To serve, cut meatloaf into twelve, 1-inch-thick slices. Place each slice onto an open roll and top with 1 teaspoon each sauce and spread.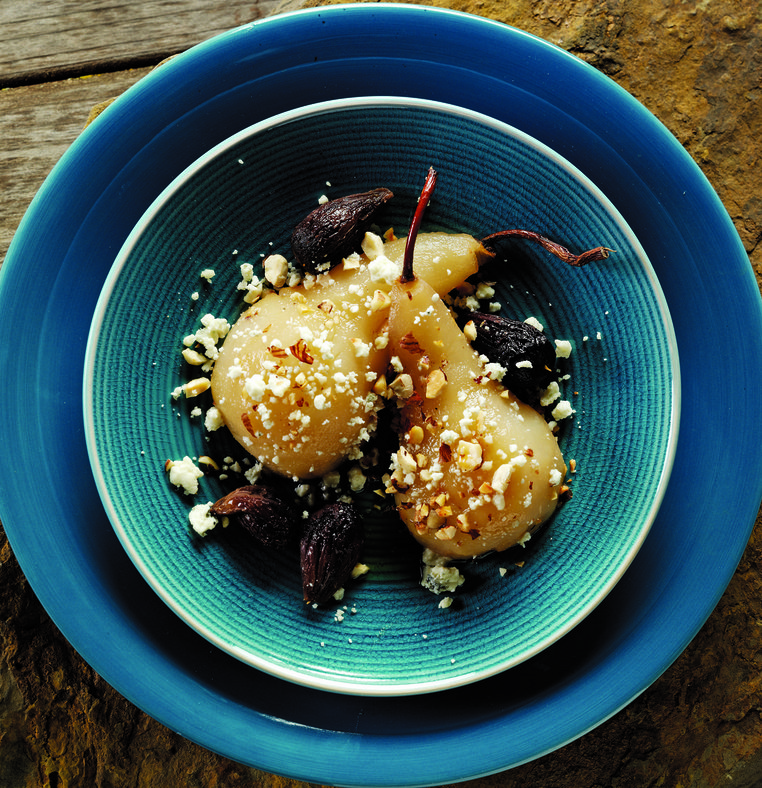 Savory Honey Mustard Poached Pears and Figs
Submitted by Pamela V.
Servings: 4 to 6
Prep Time: 10 minutes
Cook Time: 25 minutes
2     cups College Inn(r) Chicken Broth
1     cup dry white wine
1     cup water
1/2     teaspoon Dijon mustard
3     tablespoons honey, divided
1     tablespoon lemon juice
2     bay leaves
4     pears (firm variety such as Bosc),
peeled, halved and cored
6     ounces dried figs, stems removed
1/2     cup chopped hazelnuts
1/2     cup crumbled blue cheese or
goat cheese
1. Trace diameter of large saucepan onto parchment paper. Cut out and set aside.
2. Combine broth, white wine, water, mustard, 2 tablespoons honey, lemon juice and bay leaves in large saucepan. Bring to a boil, whisking occasionally. Reduce heat to low and simmer 5 minutes.
3. Add pears, core-side-up, and figs; cover with vented parchment paper so pears stay fully submerged.
4. Simmer 20 minutes until pears are fork-tender.
5. Toast hazelnuts in small, non-stick sauté pan over medium high heat, about 2 minutes or until fragrant, stirring constantly. Quickly remove nuts from pan onto a separate plate.
6. To serve, remove pears from poaching liquid and place onto individual salad plates. Drizzle with remaining 1 tablespoon honey and sprinkle with nuts and cheese.
For more great recipes visit College Inn Broths
Recipes and Photos Courtesy of: College Inn Broths