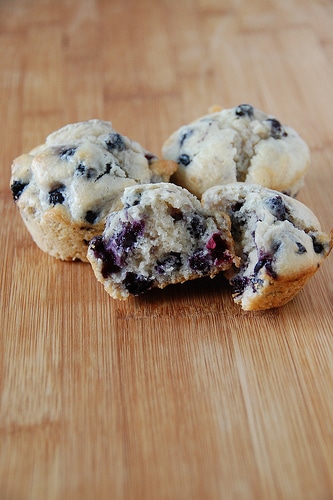 Recipe: Blueberry Buttermilk Muffins
Ingredients
2 1/2 Cups Flour
3/4 Cup Sugar
2 teaspoons Baking Powder
1/4 teaspoon Baking Soda
1/4 teaspoon Salt
Zest of 1 Orange
1 Egg, lightly beaten
3/4 Cup Buttermilk
2/3 Cup Sunflower Seed Oil
1 teaspoon Vanilla Extract
2 Cups fresh blueberries (or frozen)
Non-stick Cooking Spray
Instructions
Preheat oven to 190°C (375°F).
Spray 2 muffin trays holding 24 regular-sized muffins with non-stick cooking spray and set aside. I use a pump-based spray bottle that I can fill with my choice of oil.
In a large bowl or food processor whisk, together the egg, buttermilk, oil, and vanilla extract. In another large bowl whisk together the flour, sugar, baking powder, baking soda, salt, and orange zest to loosen any clumps. Gently fold in the berries using a spatula.
Pour in the wet ingredients and fold gently until the ingredients are completely combined.
Fill each muffin cup almost full of batter. Rachelle recommends using an ice cream scoop to achieve the perfect amount – which is quite handy!
Bake for 15-20 minutes, or until a toothpick inserted in the center of the center muffin in the muffin pan comes out clean, Transfer to a wire rack and let cool for about 5 minutes before removing from pan.
Number of servings (yield): 24 muffins

Recipe and Photo credit: For the Love of Food / CC BY-NC