Jump to recipe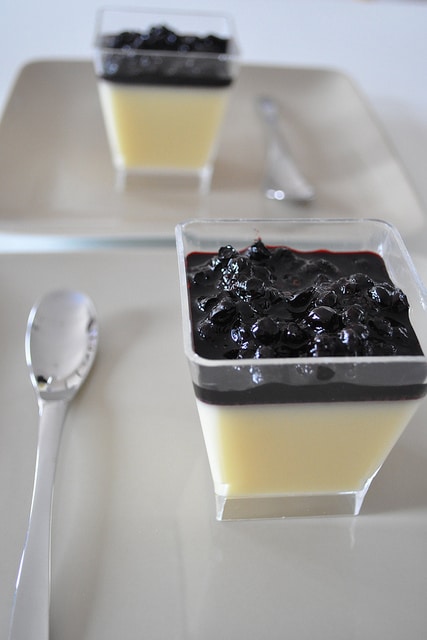 White Chocolate and Blueberry Panna Cotta

Ingredients
6 1/8 oz. (175g) whipping cream or 6 1/8 oz. (175g) heavy cream
1/8 tsp. (0.8 g) of agar powder
2 tbsp. (15g) caster sugar
1.75oz. (50g) white chocolate
2 handfuls of blueberries (frozen or fresh)
Instructions
Grate the white chocolate.
Heat the cream mixed with sugar and agar, mix well (gently with a whisk if you want), and boil 30 seconds.
Turn off the heat, add the white chocolate into the hot cream and let it melt, stirring gently.
Pour into small glasses (or large glasses), to leave at room temperature for 30 minutes, then refrigerate one hour before serving.
Meanwhile, put the blueberries in a pan with a teaspoon of castre sugar and a little water. Bake 5 to 10 minutes, until the blueberry are broken.
Refrigerate.
To serve, divide the blueberry coulis on creams in the glasses, and enjoy!