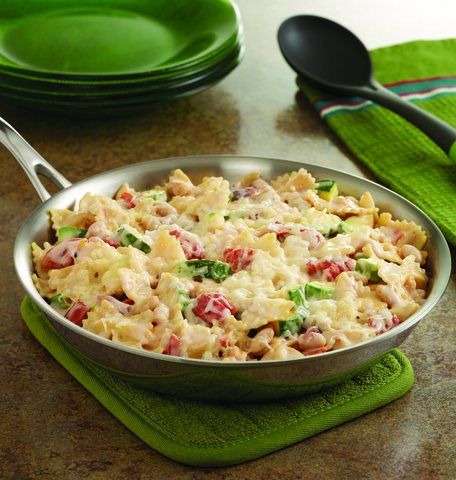 Vegetarian Lasagna Skillet
Ingredients
8 ounces dry bowtie (farfalle) pasta, uncooked
2 tablespoons Pure Wesson Canola Oil
2 cups quartered, sliced zucchini
1 (15–ounce) can Great Northern beans, drained, rinsed
1 (16–ounce) jar light Alfredo pasta sauce
1/4 teaspoon garlic salt
2 (14.5–ounce) cans Hunt's Fire Roasted Diced Tomatoes, drained well
1 cup shredded part-skim mozzarella cheese
Instructions
Cook pasta according to package directions, omitting salt.
Meanwhile, heat oil in large skillet over medium-high heat. Add zucchini; cook 5 minutes or until tender, stirring occasionally. Add beans, Alfredo sauce and garlic salt to skillet; heat until hot and bubbly.
Add cooked pasta to skillet; stir to combine. Add drained tomatoes; toss to combine. Top with cheese. Reduce heat; cover and cook 2 to 3 minutes or until cheese melts. Sprinkle with Grated Parmesan Cheese.
https://stlcooks.com/vegetarian-lasagna-skillet/
Recipe and Photo: Hunt's