Jump to recipe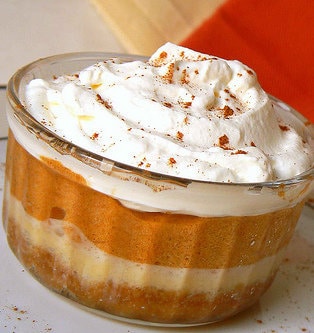 Decadent Pumpkin Torte

Ingredients
24 graham crackers crushed (or 4 cups ground digestives)
1/3 cup sugar
1/2 cup butter, melted
2 eggs, beaten
3/4 cup sugar
8 ounces (200 grams) cream cheese
2 cups roasted pumpkin, drained
3 egg yolks
1/2 cup sugar
1/2 cup milk
1/2 teaspoon salt
1-2 tablespoons (to taste) pumpkin pie spice (cinnamon, nutmeg, ginger and cloves)
1 sheet gelatin
1/4 cup cold water
3 egg whites
1/4 cup sugar
1 cup whipping cream
Instructions
Preheat oven to 350ºF/175ºC.
Mix graham crackers, sugar and butter and press in pan.
Mix eggs, sugar and cream cheese, and pour over crust.
Bake 20 minutes at 350 degrees.
Cook pumpkin, egg yolks, sugar, milk, salt and spices until mixture thickens.
Remove from heat and add gelatin which has been softened in cold water and mix well to dissolve the gelatin.
Cool completely.
Beat egg whites with sugar until stiff peaks form.
Fold into pumpkin mixture.
Pour over cooked baked crust.
Top with whipped cream and dust with cinnamon.
Recipe and Photo: Canary Girl