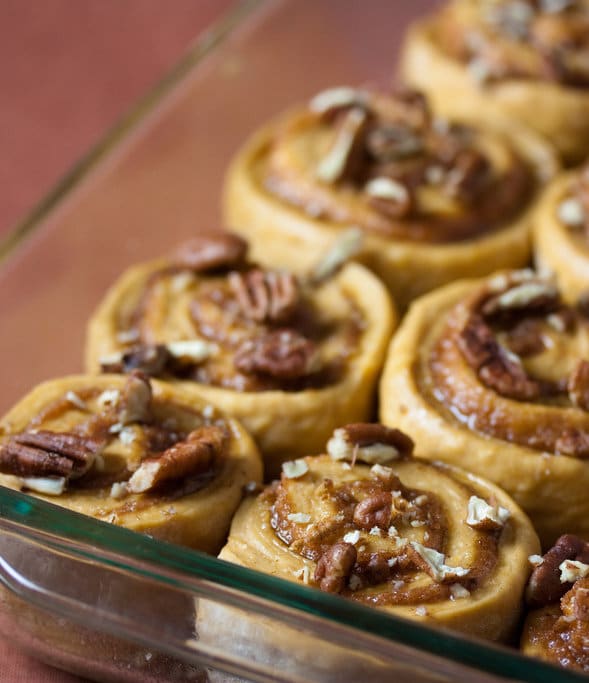 Vegan Pumpkin Cinnamon Rolls with Rum Spice Icing
Ingredients
For the dough

3 Tablespoons water
1 Tablespoon golden flax meal
½ cup + 2 Tablespoons warm water
2 ½ teaspoons active dry yeast
4 ½ cups all-purpose flour
1 cup pumpkin purée
½ cup sugar
¼ cup (54 grams) Regular Vegan Butter or non-hydrogenated stick margarine, melted
1 Tablespoon barley malt syrup
1 teaspoon salt
1 teaspoon cinnamon
½ teaspoon nutmeg
¼ teaspoon cloves

For the filling

¾ cup + 2 Tablespoons sugar
¼ cup (54 grams) Regular Vegan Butter or non-hydrogenated stick margarine, softened
1 Tablespoon pumpkin purée
1 Tablespoon barley malt syrup
1 ¾ teaspoons ground cinnamon
½ teaspoon nutmeg
¼ teaspoon cloves
¼ cup pecans chopped

For the icing

4 cups powdered sugar
½ cup unrefined coconut oil
¼ cup dark rum
2 teaspoons vanilla extract
1 teaspoon cinnamon
½ teaspoon cardamom
¼ teaspoon cloves
1/8 teaspoon salt
Instructions
In a small mixing bowl, whisk together the 3 Tablespoons water and the flax meal. Set aside.
In another small mixing bowl, whisk together the warm water and the yeast. Allow the mixture to sit for about 10 minutes so the yeast activates.
Add the flour to a medium mixing bowl.
In another medium mixing bowl add the pumpkin purée, sugar, Vegan Butter, barley malt syrup, salt, cinnamon, nutmeg, cloves and whisk until well incorporated.
Add the flax meal mixture from Step 1 and the yeast mixture from Step 2 to the bowl containing the pumpkin purée mixture. Whisk until well combined. Add these wet ingredients to the bowl containing the flour and stir until the dough comes together into a sticky ball.
Lightly dust a clean surface with flour and knead the mixture for 5 to 10 minutes. The dough should be firm and smooth, not sticky. Place the dough back into the mixing bowl, cover and place in a warm place like on top of the stove for 1 hour. After 1 hour has passed, knead the dough for about 30 seconds and let it rest for 10 more minutes.
In a small bowl, whisk together the sugar, Vegan Butter, 1 Tablespoon pumpkin purée, barley malt syrup, cinnamon, nutmeg and cloves. Set aside.
Roll the dough into a flat 16 x 20 inch rectangle. Spread the Vegan Butter, sugar and cinnamon mixture evenly on top using the back of a spoon.
Carefully roll up the dough lengthwise so it's 16 inches long. Cut it into 1 ½ inch sections with a sharp knife.
Preheat the oven to 400F (204C). Place the rolls close together, cut side up in a lightly greased 9 x 13 inch baking dish. This will ensure that the rolls don't unravel during baking. Sprinkle the pecans over them. Cover with plastic wrap and let the buns rise for one more hour.
Prepare the Vegan Rum Spice Icing and set aside.
Bake until the cinnamon rolls are just starting to turn golden, about 17 minutes, rotating the dish halfway through the baking duration. Pour the icing on the warm rolls before serving. You may want to heat the icing up a little so it can easily be poured.
This recipe makes about 12 Vegan Pumpkin Cinnamon Rolls with Rum Spice Icing.

To make the Vegan Rum Spice Icing

Place all ingredients in a food processor, process until smooth and use immediately. It will solidify after an hour or so. Heat it in the microwave for about 30 seconds to liquify again before drizzling or piping it over your finished baked goods. It will keep in the refrigerator in a covered container for up to two weeks.
This recipe makes about 1 ¾ cups of Vegan Rum Spice Icing.
https://stlcooks.com/vegan-pumpkin-cinnamon-rolls-with-rum-spice-icing/
Recipe and Photo: Vegan Baking / CC BY-SA