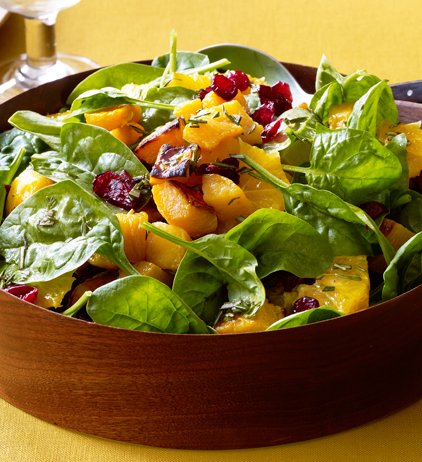 Roasted Butternut Squash Salad
Ingredients
1 medium-large butternut squash, seeded and cut into thick 1–inch slices
salt and pepper
8 tablespoons of olive oil
¼ cup red wine vinegar
½ medium red onion, sliced paper thin
1 clove of garlic, sliced paper thin
3 cups baby spinach
handful of fresh oregano
pinch of red chili flakes
Instructions
Preheat oven to 450°F.
Season the squash with 4 tablespoons of olive oil, salt and pepper.
Lay squash in a single layer on a cookie sheet.
Bake about 20 minutes, until tender.
Mix 4 tablespoons olive oil, vinegar, onion, garlic, herbs, chili flakes and salt and pepper – creating a marinade.
Remove the squash once tender and pour marinade over hot squash.
Allow to cool for 20 minutes in the marinade. Toss with baby spinach and serve.
https://stlcooks.com/roasted-butternut-squash-salad/
Recipe and Photo: recipes.wikia.com / CC BY-SA