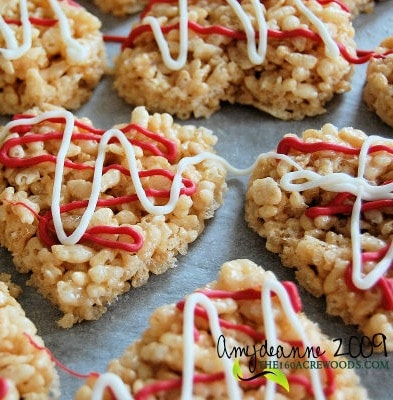 Valentines Day Crispy Treats
Ingredients
5 tablespoons Butter
16 ounces Mini marshmallows
1 env drink mix, .13 oz, any flavor
9 cups crispy rice cereal
Instructions
Grease a 15x10x1? pan. Microwave butter in large microwaveable bowl on high 45 sec. or till melted. Add marshmallows; toss to coat with butter.
Microwave on high 2 1/2 minutes or till smooth when stirred, stirring every minute. Stir in drink mix. Immediately add cereal, mix lightly until well coated. Using greased spatula or wax paper, press into prepared pan. Cool.
Cut into desired shapes with cookie cutters or cut into squares.
Melt butter in 4 qt saucepan on low heat. Add marshmallows; stir until marshmallows are melted and mixture is smooth. Remove from heat.
Drizzle mixture over treats. To make the red stripes, return saucepan to low heat, add drink mix. Stir until blended all the way through, then drizzle mixture over treats.
https://stlcooks.com/valentines-day-crispy-treats/
Recipe and Photo: Foodista / CC BY