Jump to recipe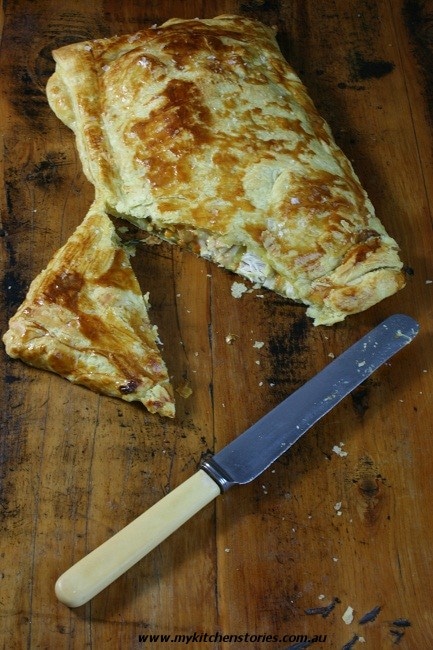 Chicken Parmesan and Red Pepper Bake
Chicken Parmesan and Red Pepper Bake

Ingredients
1 cooked chicken, deboned chopped ( small or ½ a large one – makes a lot)
½ cup flour
3 Table spoons olive oil
2 stalks celery chopped
1 small carrot chopped
1 leek chopped (or an onion)
1 large red bell pepper chopped
2 cloves garlic minced
1 teaspoon chopped thyme
1 tsp Dijon mustard
750ml – 1 liter chicken stock
½ bunch of parsley
Salt and pepper
2 sheets puff pastry
1 egg yolk
100 gm parmesan grated (or more if you like- I do)
Sea salt
Instructions
Sweat the vegetables and thyme in a pot with the olive oil till soft but not browned. Season with salt and pepper.
When soft add the Dijon and flour and stir to combine. Gradually add the stock letting it cook and thicken each time
When the mixture is very thick and bubbling take off the heat and add the chicken and the parsley. Make sure that the sauce is still very thick as this will make a nicer filling. Add the parmesan stirring in and taste again. It should taste well seasoned , cheesy with a spike of dijon. ( If it doesn't taste fabulous now……it won't later!
Pour the filling onto a tray and pop into the fridge to cool or in the freezer for 10 minutes ( this is because the hot filling will melt the pastry. If you need to make it straight away then work quickly)
Lay a sheet of puff pastry onto a baking tray lined with paper
Put a mound of the chicken mixture on to the pastry and paint around the edges with egg yolk
Put a little more parmesan on top of this if you like
Press another layer of pastry onto the top. Stretching it just fractionally to fit. Press down well
Add a good pinch of sea salt to the egg yolk and a drop of water and paint all over the top of the pie ( if using granulated salt use only a tiny pinch). the addition of salt browns the pastry more and also seasons it making it taste irresistable.
Bake for approx. 30-40 minutes or until crisp and brown. ( I sometimes put it onto my pizza stone for extra heat underneath.
Recipe and Photo: My Kitchen Stories / CC BY-SA